Some of the world's biggest music stars have come together with the people of Manchester in a display of defiance and unity at the One Love concert this evening.
More than 60,000 people filled the Old Trafford Cricket Ground to pay tribute to the victims of the Manchester Arena terror attack which left 22 people dead as they attended an Ariana Grande concert.
Following the attack, the US pop star vowed to return to Manchester, and as she took to the stage Grande was overwhelmed with emotion.
Fighting back tears she said: "Tonight is all about love am I right?"
Applauding the crowd she said: "The kind of love and unity that you're displaying is the medicine that the world needs right now. I wanna thank you for coming, I love you so much. Thank you."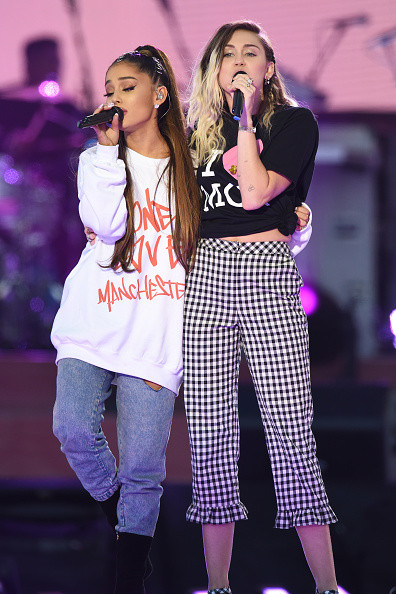 In a deeply poignant moment singing 'My Everything', the star was joined by Parrs Wood High school choir including survivors of the Manchester attack. Overwhelmed by the moment, 12-year-old soloist Natasha Seth broke down in tears and was quickly comforted with a hug from the 23-year-old singer.
Showing their support for Grande, international music stars have joined forces for the concert with Justin Bieber, Katy Perry, Coldplay, Pharrell Williams, the Black Eyed Peas, Usher, Robbie Williams, Take That, Little Mix and One Direction star Niall Horan all performing.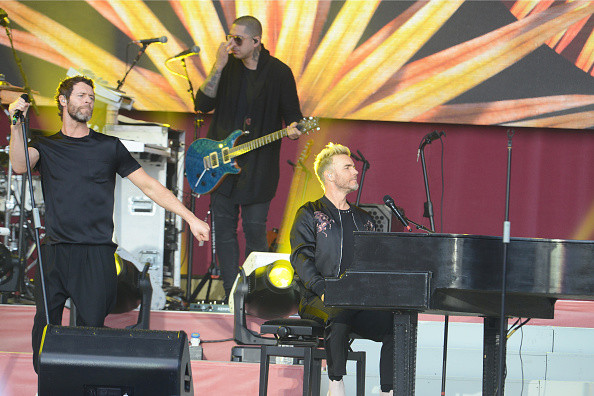 Every performance was steeped in emotion. Justin Bieber broke down as he sang while Coldplay's rendition of Fix You had everyone in tears. Forgetting the lyrics to their duet, Miley and Ariana were supported by the crowd as they stood and hugged one another. And while her famous friends stood by her ,it was Ariana Grande who took centre stage returning to perform several tracks throughout the evening.
Opening the event Mumford and Sons' Marcus Mumford took to the stage and led the crowd in a minute's silence.
Performing an acoustic version of the band's hit Timshel he then introduced Take That who performed a rousing rendition of Let It Shine.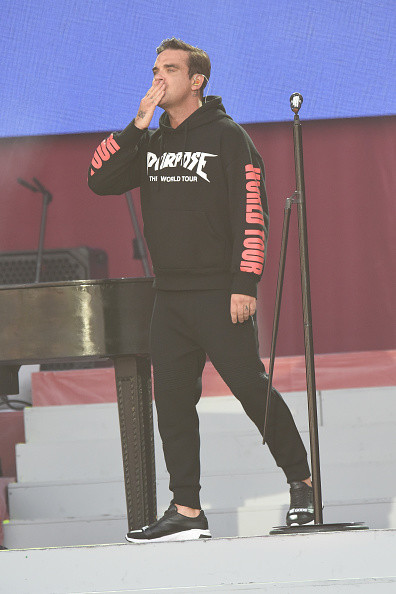 Addressing the crowd Gary Barlow said: "Thank you everybody for coming out tonight, thank you for everybody watching at home, thanks to Ariana for inviting us tonight.
"Our thoughts are with everyone that's been affected by this. We want to stand strong, look at the sky and sing loud and proud."
While there was much speculation that the remaining three members of Take That might reunite with former bandmate Robbie Williams the solo star performed his own track Strong, changing the words to, 'Manchester we're strong'.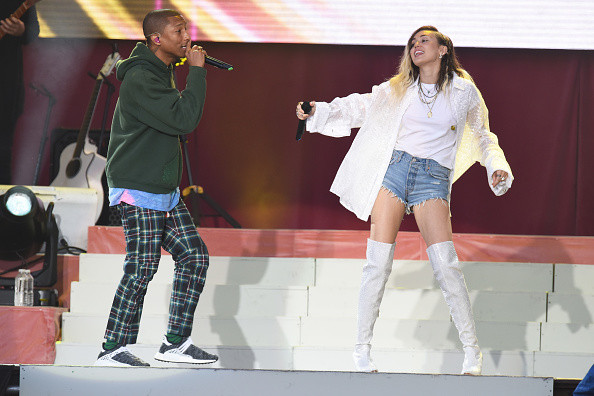 In an emotional video message, U2 frontman Bono expressed his support for the people of Manchester. He told the crowds: "All our hearts are with you, all our hearts are with Manchester and with the UK. So many of our friends are in this great city.
"We're broken-hearted for parents who've lost their children and children who've lost their parents in this senseless, senseless horror. There is no end to grief and that's how we know there is no end to life."
Performing his hit Happy, Pharrell Williams had the crowd on their feet and dancing in defiance at those who seek to change our way of life. Bowing before the crowd he said: "You know why I'm bowing, I'm bowing because despite all the things that have been going on in this place, I don't feel or hear or see any fear in this building. All we feel here tonight is love, resilience and positivity."
In a poignant video message football legend David Beckham said: "Tonight is about remembering those who suffered so much on that night, but also celebrating the spirit of this great city."
Wearing an 'I Love Manchester' T-shirt, Miley Cyrus was met with cheers from the crowd as she performed her song Inspired Miley Cyrus too paid tribute to the people of Manchester.
"Manchester,I just had to take a second to look around at all of you. I'd like to wrap my arms around each and every one of you and tell you thank you from the bottom of our hearts for having us.
"I'm so honoured to be at this incredible event surrounded by all you amazing people. The most important responsibility we have on this entire planet is to take care of one another.
"I've always loved Manchester and not just tonight, it's always felt like a home away from home to me," she added.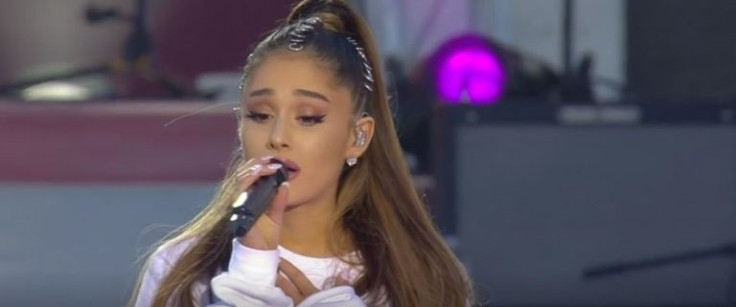 Returning to the stage, Arianna paid tribute to 15-year-old Olivia Campbell-Hardy who was killed in the terror attack, dedicating her song 'Side to Side' to her .
She said that Olivia's parents and stepfather wanted the concert to go ahead to show the world "that we aren't going to be beaten". "And I also want to say I had the pleasure of meeting Olivia's mum a few days ago," she said.
"And as soon as I met her I started crying and I gave her a big hug, and she said that I should stop crying because Olivia wouldn't have wanted me to cry. And then she told me that Olivia would have wanted to hear the hits. So that means that we had a totally different show planned and we had a rehearsal yesterday where we needed to change everything!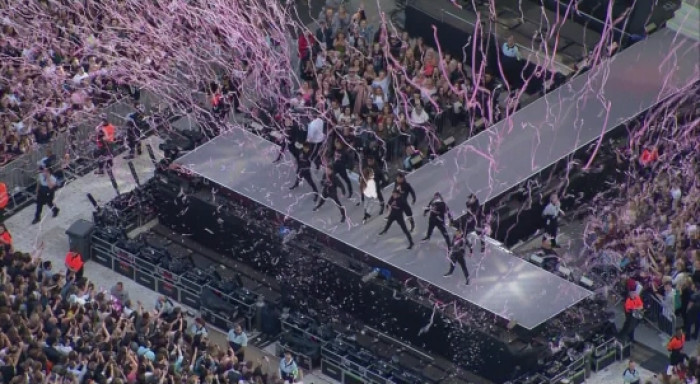 "And this evening has been so light and so filled with love and bright energy and I want to thank you for that."
Performing a soulful rendition of 'Part of Me', Katy Perry said: "Love conquers fear and love conquers hate. And this love that you choose will give you strength, and it's our greatest power."
Summing up the global sentiment in the wake of yet further attacks on London on Saturday (3 June) the Black Eyed Peas track 'Where Is The Love?' could not have been more poignant as Ariana joined them for the emotional rendition.
One Direction star Niall Horan performed his hit Slow Hands before dedicating song This Town to Manchester, saying: 'I just want to say I've been lucky enough to travel all over the world and every time I come back to Manchester I'm addicted to this place.
'When I seen you guys all rallying together last week it was a sight to behold, it was incredible. We love you, we're with you."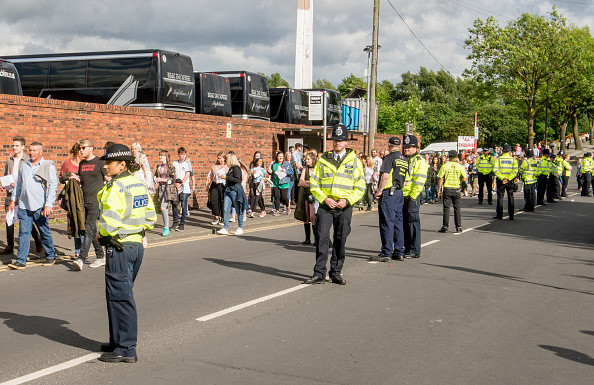 And while there were many stars who could not attend, they sent a powerful video message of support for the people of Manchester featuring Bastille, Dua Lipa, Sean Paul, Kings of Leon, Sam Smith, Rita Ora, Twenty-One Pilots, Demi Lovato and Sir Paul McCartney.
And in a fitting closing it was Ariana who lead the all- star line up in a performance of "One Last Time," which has been re-released on iTunes as a charity single to benefit the victims and families affected by the tragedy in Manchester.
Hugging her fellow performers she fought back tears as she concluded the event with a heart-wrenching performance of Somewhere Over the Rainbow.
The charity concert has reportedly raised more than £2m for those affected by last month's tragedy.