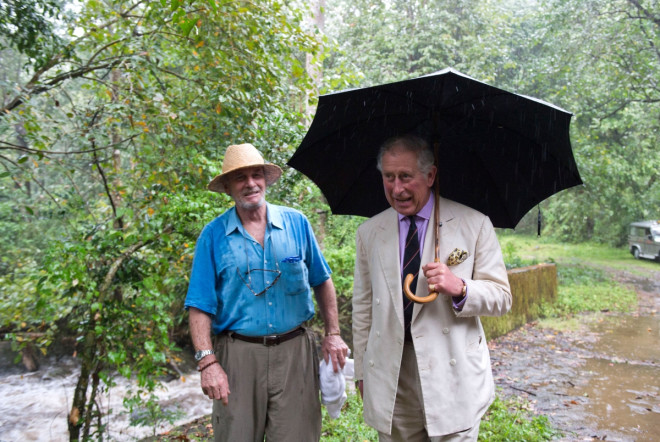 The Duchess of Cornwall has been left "devastated" by the news of her brother's death, Clarence House has reported.
Mark Shand, 62, died of a head injury sustained after a fall outside the Rose Bar in New York on Tuesday. He was in critical condition after slipping while lighting a cigarette outside an after-show party for a charity fundraising event and later died in Bellevue hospital.
A spokesperson for the royal family told the BBC that the "sudden and tragic loss" of the conservationist had left Camilla and her husband, the Prince of Wales, distraught.
The Duke and Duchess of Cambridge, who are currently touring Australia and New Zealand, said they were "saddened" to hear of Shand's death.
Who was Mark Shand?
Shand was the son of Major Bruce Shand and his wife the Hon, Rosalind Maud Cubitt, the daughter of the 3rd Baron Ashcombe and the former Sonia Keppel. He was the brother of Camilla, Duchess of Cornwall and Annabel Elliot, a British interior designer.
As a teenager, Shand was expelled from Milton Abbey School in Dorset for smoking cannabis. His father, Major Bruce Shand, sent him to Australia following his expulsion. On his way he stopped off in India, which is where his passion for conservation and elephants began.
In 1990, Shand married Clio Goldsmith, a former actress who appeared as a "femme fatale" in films of the early 1980s. The couple had a daughter called Ayesha, now aged 19.
In 2010, Shand confirmed that he and his wife were were divorced.
What did he do?
Shand was a well-known BBC conservationist and travel writer. He was the author of Queen of the Elephants, a book based on the life of the first modern female mahout Parbati Barua of Kaziranga, which won the 1996 Thomas Cook Travel Book Award and the Prix Litteraire d'Amis. He also worked on the corresponding BBC documentary.
He was the author of Travels on My Elephant, River Dog and other books and has been featured in many documentaries. An Indophile, most of Shand's work features Indian culture and Hinduism.
Shand was also actively involved in the conservation of the Asian elephant and co-founded a charity called Elephant Family.
Dan Bucknell, head of conservation and campaigns at the Elephant Family described Shand as a "fun-loving, warm-hearted, generous guy" who had "infectious enthusiasm".