You'd be forgiven if you hadn't heard of Roberta Vinci before today. However, that's all about to change, as the Italian tennis player has shot to public attention having caused one of the greatest upsets in the history of women's tennis, after she beat number one seed Serena Williams in the U.S Open semi-finals.
Defending champion Williams had been attempting to complete the calendar Grand Slam, but was unexpectedly knocked out in a gripping 2-6, 6-4, 6-4 semi-final. While Williams was left to stomach a rare taste of defeat, 32-year-old Vinci found instantly herself thrust in the full glare of the global media spotlight.
But what do we know of the Italian tennis champion who robbed Serena of her grand slam dream?
Roberta Vinci was born in Taranto, the daughter of Angelo Vinci, an accountant, and his wife Luisa, a homemaker; she has an older brother, Francesco. Vinci was introduced to tennis at the age of six. She currently resides in Palermo, and is coached by Francesco Cina.
She had actually already done quite well for herself on the international tennis circuit. She made her name as the World No. 1 in doubles partnering with Sara Errani. As of 8 September 2015, Vinci was ranked World No. 43 in singles and No. 35 in doubles winning 32 WTA Tour titles, 9 in singles and 25 in doubles, including the 2012 French Open, the 2012 US Open, the 2013 Australian Open and 2014 Australian Open, and 2014 Wimbledon titles with regular partner Sara Errani. In doing so, they became only the fifth pair in tennis history to complete a Career Grand Slam.
However, the best friends caused a shock when they announced they were to split in 2015 to focus on their singles careers. "After living a wonderful journey for the past several years, which has given us the chance to reach amazing results, we release the following note to inform you about our decision to end our doubles partnership," the Italians wrote in a joint statement. They added: "It's our common purpose to start new individual career paths and set brand new goals to try to reach, also for you to enjoy and take pride in."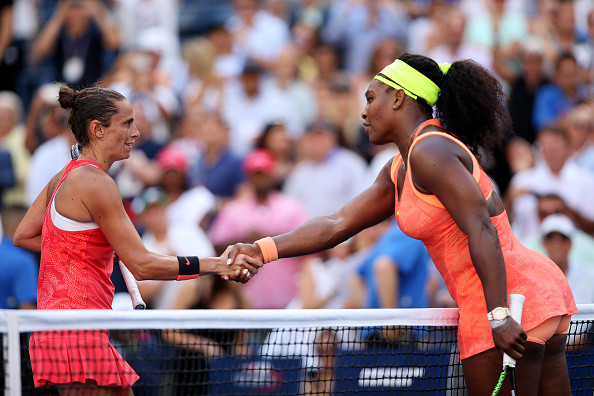 It was not expected that the diminutive Vinci might be able to replicate her doubles success alone and it was even said of her by her critics that she "doesn't have the firepower to seriously test the top players". How wrong they were.
The victory against Serena was a shock to everyone, including Vinci, who admitted in her post-match press conference that she didn't think she would win against the grand slam champion.
"It's tough to explain, because I don't have many- maybe also in Italian the words that can I explain really, because it's amazing. Maybe if yesterday [you] told me, 'Okay, tomorrow you can win against Serena', I say, 'Come on.' Yesterday I called my travel agency to say, Okay, book me a flight, because you know... (Laughter.) ... I think it's the best moment of my life," she added.
At 32, she is the oldest first-time Grand Slam semi-finalist in the Open Era. And as she braces herself for the first ever all Italian final against Flavia Pennetta, you can be sure Roberta Vinci is a name you'll be hearing a lot more of.