Who is Romanian President Klaus Iohannis and why is he backing huge anti-government protests?
Iohannis has criticised Sorin Grindeanu over the state's attempt to dodge corruption charges for officials.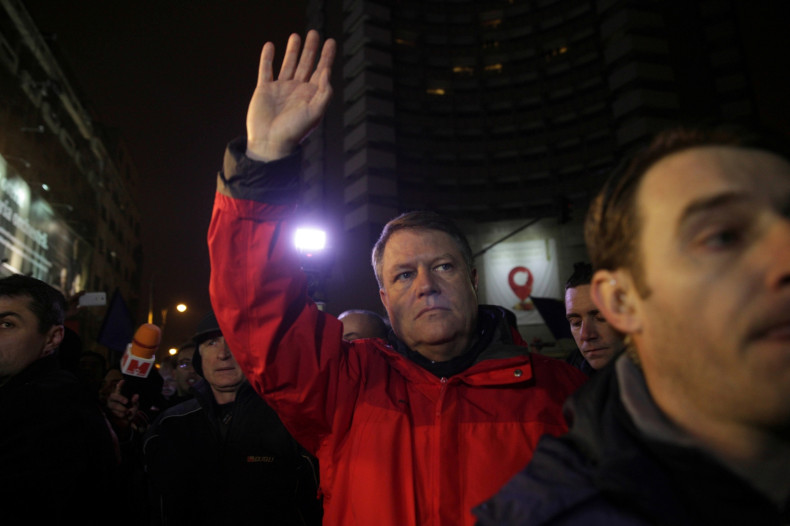 It is an unorthodox kind of elected president that finds himself at the forefront of a massive anti-government protest movement – but then Klaus Iohannis is an unorthodox kind of leader.
Not only is he the first Romanian president to hail from the country's German-speaking Protestant minority – rather than Romania's Orthodox Christian majority – but Iohannis is the first leader of the Eastern European country to have no links with the Communist regime that ruled until 1989.
Born in Transylvania, the 57-year-old has been a thorn in the side of the ruling Social Democratic Party (PSD) since he beat its former leader, Victor Ponta, in presidential elections two years ago. He is now serving as president under a second PSD government, headed by Prime Minister Sorin Grindeanu.
Under Romanian law, the president has a largely ceremonial role although has responsibility for defence and foreign policy as well as key intelligence and judicial appointments. Although rare, it allows for the president to be at odds with the government of the day.
Certainly that has been Iohannis' experience in the top job. He ran for election in 2014 on an openly anti-corruption ticket – unusual in a country which is thought to lose some US$16 to US$33bn to corruption every year – at a time when Ponta's own aides were embroiled in graft scandals.
Then in October 2015 the Collectiv nightclub in Bucharest burned to the ground, killing 64 people and injuring 147. The tragedy sparked massive anti-government protests when it emerged that the club was given a license without permission from the fire department.
After weeks of street demonstrations, Ponta was forced to resign and his government was replaced by a technocratic cabinet that ruled until elections could be held in January 2017. That poll brought the PSD back to power under new leader Sorin Grindeanu, who promised higher wages and lower taxes.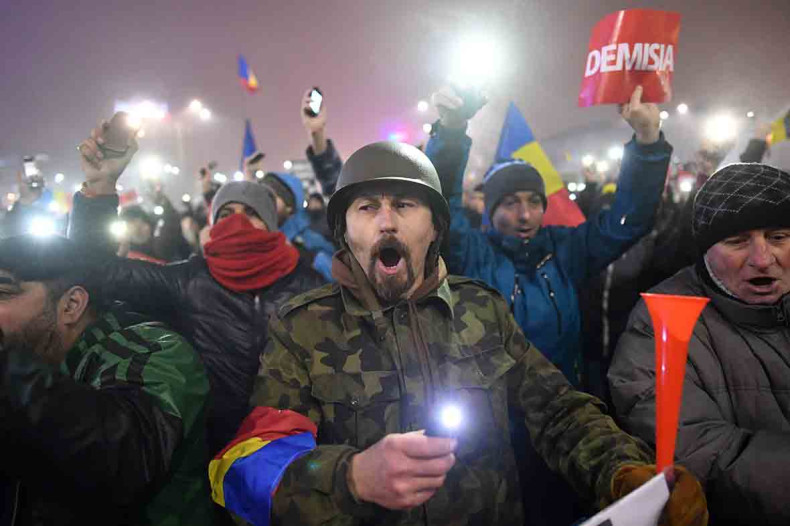 But just weeks into their new term, the government attempted to pass a decree that would abolish jail terms in cases of abuse of power that incurred costs of less than 44,000 euros. Last week, tens of thousands turned out in street protests that swelled to more than half a million.
Iohannis told the Romanian parliament on Wednesday that the country needed a transparent government that governed 'by the late of day' not in the darkness of night. "The prosperity of the Romanian people was not your first priority [...]. That's why Romanians are indignant and revolted," he said.
His mandate as president has very much come from those Romanians that are sick of the corruption that has plagued Romania since the end of Communism in 1989 (and long before). During the 2014 elections, 50% of the Romanian diaspora voted for him over a mere 16% who voted for Ponta.
Daniel Brett, an Associate Lecturer at the Open University, explained in an IBTimes UK column on February 8 that Romanians that have travelled abroad to work in Europe have become a strong political voice that opposes the rampant corruption and nepotism in their homeland.
But despite Iohannis' rhetoric – he has openly praised the protesters in Bucharest – he has not called for new elections and has affirmed the ruling PSD's mandate and right to rule. With tens of thousands on the streets and Grindeanu yet to act, the future of Romania depends less on Iohannis, and more on which side – the protesters or the state – buckles first.