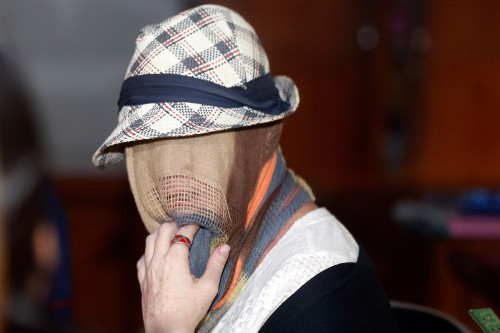 Australian woman Schapelle Corby, who had been sentenced to 20 years in prison by Indonesian courts on drug trafficking charges nine years ago, has been released on parole.
The 36-year old woman had spent almost a decade trying to prove her innocence in Indonesia, where the maximum penalty for drug trafficking is death by firing squad.
Corby, whose conviction and sentencing had garnered wide publicity in the Australian media, was offered a windfall for recounting her experience.
The Sydney Morning Heralad reported Corby has signed a deal with Channel Seven worth as much A$3m (£1.6m) for her first interview.
Citing industry sources, the paper reported the media contract, one of the biggest in Australian TV, might have been finalised before her dramatic release from prison.
Marijuana haul at airport
Her ordeal started late 2004, when she boarded a flight with her brother and two friends from Brisbane airport via Sydney to Bali to celebrate her sister's birthday.
At Bali's Denpasar airport, about 4.1 kg (9lb) of marijuana was recovered from her unlocked bag, in what was the biggest drug haul at the airport. She said she did not know how the drugs were placed in her luggage.
Indonesian customs officers claimed she had admitted that the marijuana was hers, but Corby insisted she had told them the bag was hers, not the marijuana in it.
Either of the claims could not be verified conclusively as there was no CCTV footage or verbal recordings of the incidence.
Subsequently, Corby was arrested in accordance with the country's tough anti-drug trafficking laws and put in prison without bail.
She was then sentenced to 20 years, which created a furore in Australia where people highlighted the loophole-ridden conviction process. Many Australians believed Corby had been falsely accused.
It had emerged that baggage handlers at Qantas, the airline on which Corby flew, were reportedly being investigated on suspicions of cocaine smuggling just weeks before Corby's trial ended in 2005.
Several remissions were granted to her during her sentence on account of her good behaviour, even as she suffered periodic bouts of depression and psychotic symptoms in the prison.
Her family had made an appeal for clemency to the president, following which her sentence was reduced by five years.
Her brother-in-law Wayan Widyartha reportedly paid a fine of A$13,875 (approx. £7,604) as part of her original sentence, and guaranteed support for Corby after her release.
Stringent anti-drug laws
She will not be able to return to Australia until 2017 under the parole conditions. In the meantime, Corby will work in her sister's swimwear-surf shop, and is free to undertake any business or media contracts to present her side of the story.
Corby's release was not welcomed by some Indonesian lawmakers and anti-drugs groups who lobby for stringent enforcement of anti-drugs laws.
However, Justice Minister Amir Syamsuddin made it clear the parole was essentially a right regulated by law.
She left the prison with her face hidden by hat and scarf, as Australian reporters scurried to interview her and picture her coming out of the prison.
"We asked her how she was. She cried and said she was still feeling traumatised due to all the journalists," Agung Bagus Kusimantara, one of the personnel at Bali prosecutors' office, told AFP.