Shaker Aamer, the last British national detained in Guantanamo Bay, has finally been released after being held without charge in the detention camp in Cuba for 13 years. Foreign Secretary Phillip Hammond confirmed the 46 year old boarded on a flight back to the UK on 30 October.
The news has been welcomed by campaigners who have sought the release of Aamer following claims he is now suffering from post-traumatic stress disorder (PTSD) as a result of "barbaric treatment, including extensive torture, for more than a decade".
Aamer recently announced he was going on hunger strike in protest at the "constant and ongoing abuse" he has suffered in Guantanamo. In 2005, he was said to have lost half his body weight during a previous hunger strike. He is likely to undergo medical tests when he arrives back in London.
Aamer has spent 13 years inside Guantanamo without ever being charged or put on trial. He was first cleared by the George Bush administration in 2007 and again by President Barack Obama in 2009.
Confirmation of his release was given on 25 September, but Aamer remained inside the detention camp until the end of October as the US administration has to give Congress 30 days notice of his release.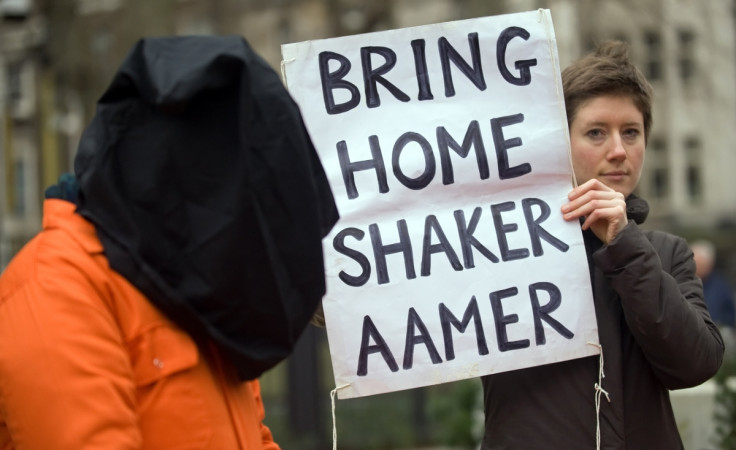 Aamer was born in Saudi Arabia but moved to the UK in 1996. He was given British citizenship after marrying his British wife Zin Siddique in 1997, who he now has four children with – one of whom he has never met due to his incarceration.
Soon after the 9/11 terror attacks in 2001, he moved to Afghanistan with his family to work with an Islamic charity. He was captured by Afghan forces and handed over to the US officials accused of fighting at Tora Bora, a military engagement that took place at the beginning of the "war on terror".
After originally being sent to Bagram Airfield, a US military base in Afghanistan, he was eventually transferred to Guantanamo in 2002 accused of aiding al-Qaeda on the same day his son was born. According to US military files, obtained by Wikileaks, Aamer was also accused of being a "close associate of Osama bin Laden".
The allegations against Aamer were later dropped in 2007 resulting in the then-foreign secretary David Miliband urging the US to release him, which they refused to comply with. In March, former shadow home secretary David Davies suggested Aamer was still being detained as he has "seen too much" to be released during a House of Commons debate. Labour MP John McDonnell added Aamer's case is one of the "worst cases of a miscarriage of justice in the last three decades".
Human rights campaigners say during his time in Guantanamo, Aamer was been subjected to extensive torture, including an extended period in solitary confinement, sleep deprivation, as well as having his head "repeatedly banged so hard against a wall that it bounced" while being interrogated.
Andy Worthington, co-director of the We Stand With Shaker campaign group, said he is "delighted" to hear that his "long and unacceptable ordeal" has ended.
He added: "We hope he won't be detained by the British authorities on his return and gets the psychological and medical care that he needs to be able to resume his life with his family in London.
Amnesty International UK Director Kate Allen said: "After so many twists and turns in this appalling case, we won't really believe that Shaker Aamer is actually being returned to the UK until his plane touches down on British soil.
"We should remember what a terrible travesty of justice this case has been, and that having been held in intolerable circumstances for nearly 14 years Mr Aamer will need to time to readjust to his freedom.
"Aamer has alleged that he was tortured in full view of British agents in Afghanistan − a very serious claim that should be fully investigated as part of an independent, judge-led inquiry into a whole set of allegations that UK officials were involved in kidnap, detention and torture overseas during the 'war on terror'.
"Meanwhile, let's not forget that more than 100 detainees remain behind at the camp as Aamer comes through Guantanamo's gates. This is far from over. The USA must promptly charge all the remaining detainees with recognisably criminal offences and ensure they receive a fair trial before a federal civilian court, or safely release them."