Fifa has announced the shortlist of those competing to replace outgoing Fifa president Sepp Blatter as the head of football's world governing body at the elections in February 2016. In order to be eligible, each candidate must pass Fifa's Ethics Committee's integrity checks involving a review of corporate records, bankruptcy proceedings, potential regulatory actions and other "potential red flags", such as fraudulent behaviour, match manipulation and human rights violations.
Among those who have passed the checks and are now official Fifa presidential candidates are Prince Ali Ali Hussein, former Fifa executive Jérôme Champagne, Uefa general secretary Gianni Infantino and ex-South African government minister Tokyo Sexwale.
Two names who did not make the list were Liberian football association chief Musa Bility, who did not pass the integrity tests although the reasons why have not been disclosed, and Uefa president Michel Platini, who is currently suspended from all footballing activities for 90 days pending a criminal investigation over "disloyal payments".
The fifth name to be declared eligible to stand is Sheikh Salman Bin Ebrahim Al Khalifa, president of the Asian Football Confederation (AFC) and member of the ruling Bahrain family. Salmon managed to pass the tests by Fifa's Ethics Committee despite allegations he was involved in "crimes against humanity" while he was president of Bahrain Football Association (BFA).
Salman, who announced his intention to run for Fifa president on 15 October, is accused by a number of human rights groups of being directly involved in his family's violent suppression of pro-democracy demonstrations in Bahrain in 2011. In particular, Salman was alleged to have headed a committee who named some Bahrain athletes involved in the protests, some of whom were then allegedly imprisoned and tortured.
In a letter to acting Fifa president Issa Hayatou, the Americans for Democracy & Human Rights in Bahrain organisation expressed their issue with Salman's candidacy. The letter said: "In 2013, our organisation wrote to Fifa president Mr Joseph Blatter expressing our deep concern over allegations of unethical behaviour conducted by Fifa committee member and president of the Asian Football Confederation, Sheikh Salman bin Ibrahim Al-Khalifa. Sheikh Al-Khalifa is a member of the Bahraini royal family and previously served as president of the Bahrain Football Association.
"As we explained in our previous communications, there is credible evidence that Sheikh Al-Khalifa aided and abetted crimes against humanity while he was president of the BFA. In light of news that Sheikh Al-Khalifa is seeking election as president of Fifa, we write now to urge you to terminate Sheikh Al-Khalifa's candidacy for this position in the emergency meeting of the Fifa executive committee."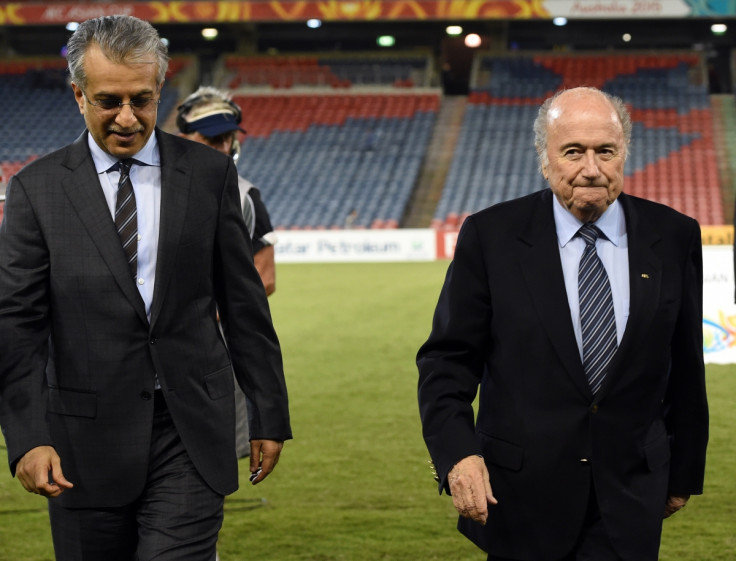 The Bahrain Institute for Rights and Democracy (BIRD) said 150 athletes, coaches and referees were jailed as a result of Salman's actions. After announcing his intention to run for Fifa's top job, BIRD also urged the organisation to block his attempt to succeed Blatter.
Sayed Ahmed Alwadaei, director of advocacy at BIRD, said: "In attempting to get rid of its corruption crisis Fifa is now set to replace one allegedly corrupt official with another. Salman is accused of involvement in a campaign of abuse against athletes in Bahrain, something Fifa is aware of and has refused to investigate. Salman's appointment would be absurd."
Salman was first asked about his involvement in the violent crackdown in 2013 after he became president of the AFC. He said: "I just have one question: You talk about allegations but the question is, do you have the proof? If anybody has the proof that the Bahrain Football Association has violated the statutes of Fifa or AFC, then present it. Otherwise we move on."
He recently issued another statement reiterating he had "absolutely no involvement" in investigating and prosecuting the pro-democracy athletes. He said: "Recent allegations are entirely false and categorically denied by Sheikh Salman bin Ebrahim Al Khalifa.
"While it was proposed that Sheikh Salman lead a fact-finding committee in relation to the events of 2011, that committee was never formally established and never conducted any business whatsoever.
"For the record, and in light of the recycling of historic allegations in the media, Sheikh Salman had absolutely no involvement in the identification, investigation, prosecution or mistreatment of any individuals as has been alleged."