Fifa has announced the five candidates who will be eligible to stand in February's election to replace Sepp Blatter as president of world football's governing body.
Prince Ali Ali Hussein (who stood against Blatter in the last election amid the corruption and bribery scandal), president of the Asian Football Confederation Sheikh Salman Bin Ebrahim Al Khalifa, former Fifa executive Jérôme Champagne, Uefa general secretary Gianni Infantino and ex-South African government minister Tokyo Sexwale have been approved to stand after passing Fifa's integrity test.
Uefa president Michel Platini has not been including after he was suspended from all football activity for 90 days at the start of October, along with Blatter, after Swiss authorities opened a criminal investigation into the pair over alleged "disloyal payments". Platini, who was at one stage favourite to replace Blatter, will be examined once his 90-day suspension by Fifa's ethics committee is over.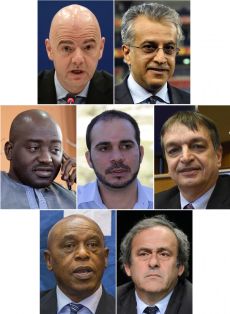 Liberian football association chief Musa Bility has also been blocked from standing after he did not pass the checks, but Fifa has not disclosed the reasons why.
A Fifa spokesperson said: "Pursuant to Fifa's Electoral Regulations and the Fifa Organisation Regulations, the investigatory chamber of the Ethics Committee conducted integrity checks on the candidates. This two-step process involved first creating detailed reports of risk-relevant information relating to each candidate. The integrity check included a review of corporate records, litigation cases, bankruptcy proceedings, potential regulatory actions taken against the candidate and a review of media reports concerning potential red flags (fraudulent behaviour, match manipulation, human rights violations, etc).
"The Ad-hoc Electoral Committee did not admit the candidature of Musa Hassan Bility, in view of the content of the integrity check report relating to him. For reasons of protection of personality rights, the Ad-hoc Electoral Committee – while it has explained its considerations in detail to Musa Hassan Bility – will not comment publicly on the specifics of its decision."
Al Khalifa passed the legitimacy checks despite being accused by a number of human rights groups of being complicit in the violent crackdown on peaceful protests calling for democratic reform in 2011. The decisions of the Ad-hoc Electoral Committee on the eligibility of candidates may be appealed at the Court of Arbitration for Sport (CAS) in Lausanne.