Who should I vote for? Google reveals top searches as Britain votes during general election
The tech giant also revealed which political party is garnering the most number of searches across the UK.
As Britain heads to the polls in the second general election the country has held in two years, Google has revealed what the British have been searching for, which may shed light on the nation's interests in the various political parties, as well as uncover some of the most burning questions Britons have about the snap election.
Google unveiled data on not just what people were most searching for but also which political parties were most searched across the UK. The data also reveals which party leader was most searched for in the past week and which political issues garnered the most searches in the past six months.
What did Britain most search for?
According to Google, the list of most searched for questions over the past week was topped by "Who should I vote for?" This, to some extent, may be indicative of the kind of confusion and indecision British voters may have been feeling in the run-up to the election.
Here is the list of top five questions most searched for in the past week:
1) Who should I vote for?
2) What is a hung parliament?
3) Who won the debate?
4) How to vote?
5) Will Labour win?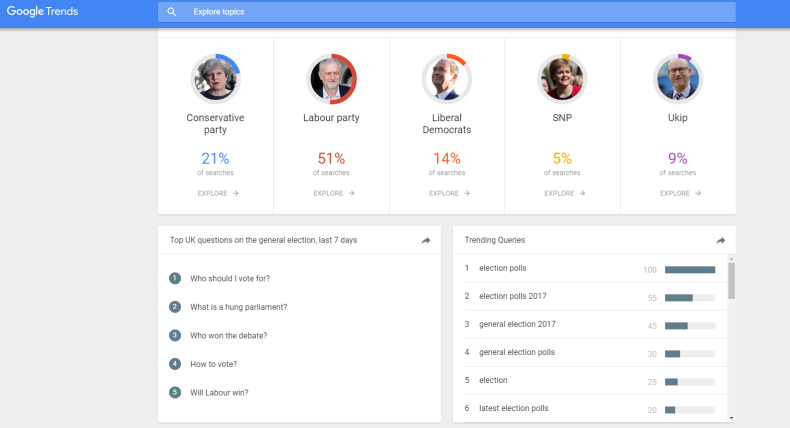 Who's winning in searches?
According to Google, the Labour Party is well ahead of the competition with 51% of searches. The Conservative Party follows with 21% searches. The Liberal Democrats, Ukip and SNP got 14%, 9% and 5% respectively. Although Labour is not leading in polls across UK, it has garnered a significant number of searches – 52% in Wales, 32% in Scotland and 26% in Ireland.
What political issues are people searching for?
Google's data revealed that people also searched for political leaders and their manifestos as well as key political issues. The most searched political issue in the UK in the past six months was tax. The other issues to make the top five most searched political issues included housing, NHS, Brexit and immigration.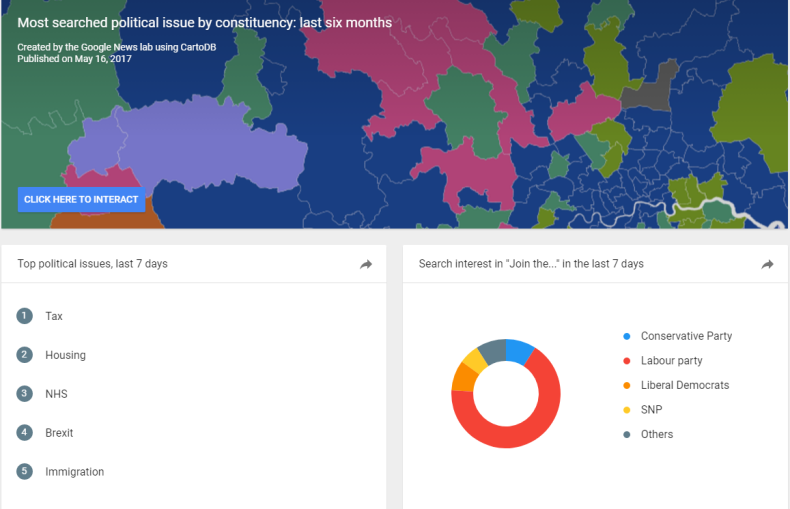 Meanwhile, the most searched for political leader in the past seven days was Jeremy Corbyn. Theresa May was the second most searched political leader, followed by Tim Farron, Nicola Sturgeon and Paul Nuttall.

To find out more about when the results of the general election will be announced, click here.