Why is the Church of the Holy Sepulchre, considered Christianity's 'holiest site', shut in Jerusalem?
Church leaders say the Israeli government's violations of the status quo are at an "unprecedented level".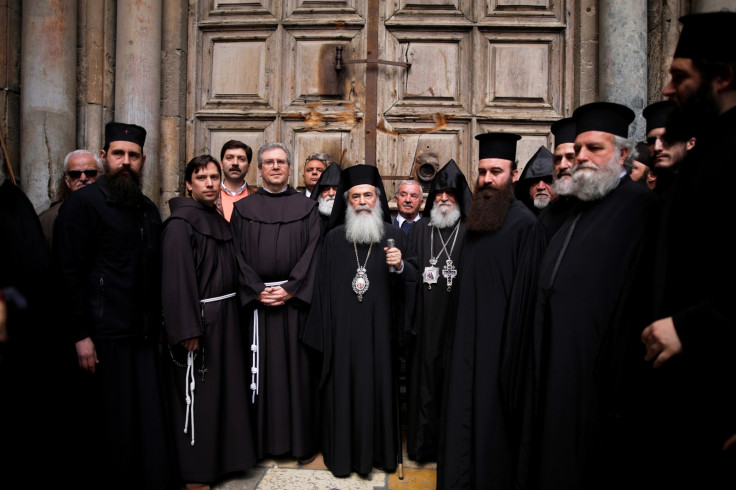 The Church of the Holy Sepulchre in Jerusalem, considered by some as Christianity's holiest site, has been shut by its leaders in protest after a new tax was proposed by Israeli authorities. The church, built in Old Jerusalem, is a popular pilgrimage spot and is believed to be the site where Jesus Christ was crucified and buried.
The Church of the Holy Sepulchre was closed on Sunday, 25 February, for visitors as a sign of protest against Israel's proposed property law and a new tax policy, with heads of the community saying that Christians are being unfairly targeted. Justifying the rare step, the church leaders condemned Israel's "discriminatory" actions to weaken the Christian presence in the region by focussing their attention on the religious facility. It is unclear when the church will open again.
The Israeli government recently proposed a legislation which would allow it to take charge of church properties which are leased to private firms.
According to the proposals, the Jerusalem municipality is set to tax properties owned by the church but will not impose any taxes on houses of worship. The government argued that "hotels, halls and businesses cannot be exempt from municipal taxes simply because they are owned by the churches". However, this has been strongly opposed by the religious groups.
In a statement jointly issued by the heads of Catholic, Greek and Armenian denominations, the church leaders said that Israel's violations of the status quo are at an "unprecedented level".
"The systematic campaign of abuse against Churches and Christians reaches now its peak as a discriminatory and racist bill that targets solely the properties of the Christian community..." the statement read.
It also lambasted Israeli Prime Minister Benjamin Netanyahu's government after its decision to introduce taxes on the church's properties.
"These actions breach existing agreements and international obligations, which guarantee the rights and privileges of the Churches, in what seems as an attempt to weaken the Christian presence in Jerusalem," added the statement. "This reminds us all of the laws of a similar nature which were enacted against the Jews during dark periods in Europe."
However, Israeli officials say the church's concerns are baseless.
"I understand that the church is under pressure, but their lands will remain theirs, no one has any interest to touch them ever. My bill deals with what happens when the right over the lands are sold to a third party," Rachel Azaria, an Israeli politician who is backing the legislation, told the BBC.
Though the Israeli cabinet is scheduled to discuss the matters on Sunday, it has been postponed due to the latest uproar.
Earlier in 1990, the church had taken a similar decision to protest against Israeli settlers on its land.