Is Russia using Syria's battlefields as a 'playground' to test its weapons?
Israeli satellites spot two of Moscow's advanced fighter aircraft, Su-57, at an airbase in Syria.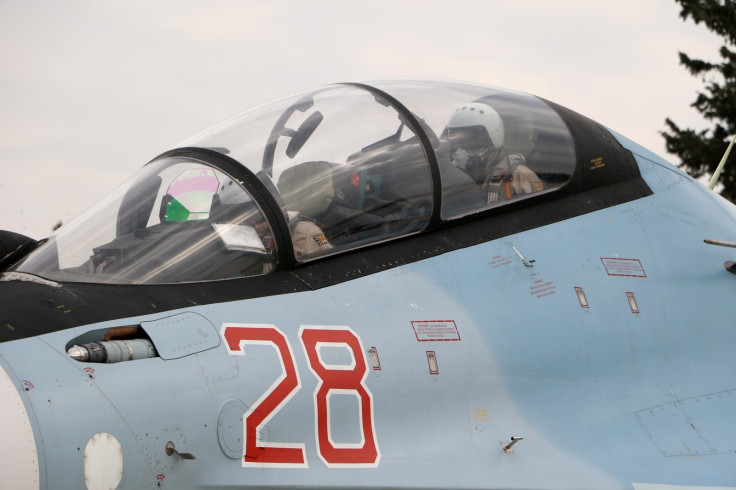 Russia's sophisticated fifth-generation fighter jet Su-57 was spotted in a Syrian airbase, with one Israeli satellite operator calling it an attempt by Moscow to use the conflict-ravaged country as a "playground" to test weapons.
Two of its most advanced stealth fighter jets — the first of their kind and a potential rival to the US' F-22 Raptors – were seen at the Russian airbase in the Syrian airbase of Latakia this week. While Kremlin deflected all questions related to the deployment, the military has stayed tight-lipped on the matter as well.
Though there has been no official confirmation, there were multiple news reports in Russian media that Moscow was beefing up its military presence in Syria.
Israeli satellite company, ImageSat International, picked up images of the state-of-the-art weapons on Friday, 23 February, and said the aircraft were sent to the Khmeimim base "for a test in real conditions".
It added that Russia is likely to use Syria as a "playground" for testing the capabilities of the jet, which is similar to China's Chengdu J-20. The Su-57 is a stealth, single-seat multirole warplane manufactured by Russia's Prospective Aviation Complex of Frontline Aviation.
The addition of fifth-generation fighters into Syria would certainly not be in keeping with Russia's announced force drawdown. "We do not consider these jets to be a threat to our operations in Syria, and will continue to deconflict operations as necessary," said Eric Pahon, spokesman for the US Defense Department. But, it is unclear whether Russia would put them for real operations as the stealth fighters are still thought to be going through developmental stages.
"The coalition remains focused on the enduring defeat of the Islamic State. We call on all parties, however, to remain focused on defeating ISIS, de-escalating and resolving the Syrian conflict, and protecting innocent civilians," added Pahon.
The presence of the advanced Su-57 jets – Russia's first aircraft with stealth technology – in Syria is a fraught moment in the long-running Syrian conflict, with the US and Russian jets scrambling to intercept each other during aerial operations.
In the past, Moscow had showcased its military prowess by displaying its combat helicopters and cruise missiles at various points of the seven-year-long Syrian war mostly in favour of the embattled leader, Bashar al-Assad.