Rihanna was overwhelmed at her latest show in Dublin, Ireland. The Work singer shed tears in front of a packed audience at the city's Aviva Stadium on 21 June 2016 before delivering an emotional speech thanking fans for their support on the mammoth world tour.
Thousands of fans were in attendance as Rihanna performed the second show on the European leg of her world tour. According to reports, the chart-topping singer arrived onstage around 30 minutes late and then began to cry during her second song, Love The Way You Lie (Part II). In footage posted online by a concert-goer, Rihanna struggles to sing the lyrics but is encouraged to continue by her cheering audience before managing to compose herself.
Later, the Diamonds songstress acknowledged her emotions, telling the audience: "I only have ever in my life heard an audience of people scream so loud that they sound like one voice and that only happens in Ireland, in Dublin. Thank you so much."
Although Rihanna did not give a specific reason for her tearful performance, the singer is perhaps preparing for the fourth anniversary of her grandmother's death. Affectionately known to RiRi as 'gran gran Dolly', Clara Braithwaite died on 30 June 2012 after battling an illness. The pair had a particularly close relationship with Rihanna documented the final weeks she spent with Braithwaite on social media by posting sweet pictures of them together.
The singer's spirits was lifted backstage at the Dublin show as she was seen posing with mixed martial-arts champion Conor McGregor. Rihanna captioned the image on Instagram: "#ConorMcGregor backstage last night! So much heart! Thanks for your kind words!"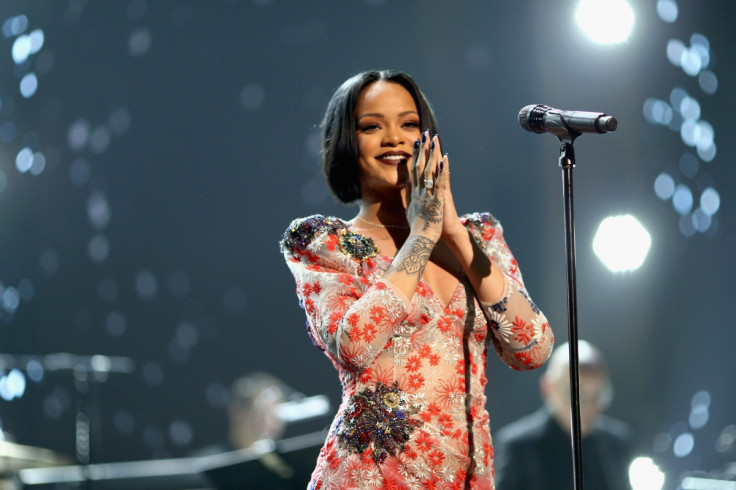 Alongside a short video clip from the Dublin concert, Rihanna wrote: "What a night!!!! Such an emotional show for me! I feel so lucky to have a team like the #Navy man! I'm blessed!! No matter what I'm on you always snatch me out of it! I'm so grateful to have y'all! #DUBLIN#ANTIWORLDTOUR."
Rihanna will continue performing the UK leg of her Anti World Tour with a show at London's Wembley Stadium on 24 June and then Coventry, Glasgow and Manchester. The 75-date jaunt is in support of Rihanna's eighth studio album Anti, which was released in January.