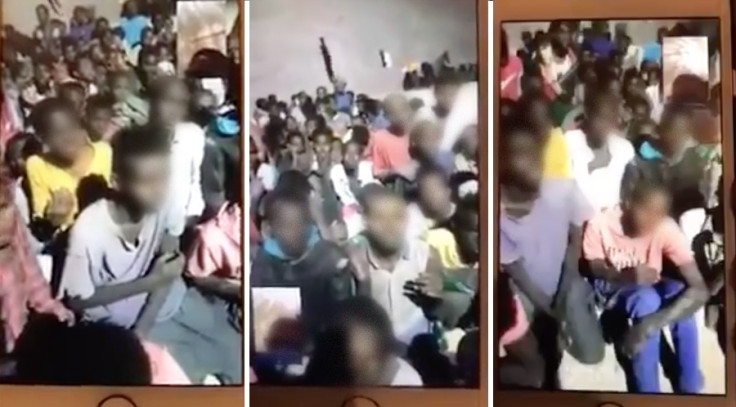 Facebook has found itself in the middle of an ethics row with the International Organisation for Migration after it refused to delete from its platform a harrowing video of African migrants being tortured by Libyan gangs.
The shocking clip showed 260 Somali and Ethiopian migrants including many children held against their will in a crowded room who described being beaten, abused and left without food. The footage which was recorded by a Somali journalist who spoke with the criminal gang via video call has been circulated on Facebook since June 2017.
Held by Libyan traffickers the emaciated captives tell the reporter some have had their teeth removed, arms broken and that women were being held in separate cells where it is feared they are being subjected to sexual and physical abuse.
A particularly disturbing moment of the video reveals a man with a large concrete block placed on his back as punishment for his family not paying his $8,000 ransom.
"They broke my teeth. They broke my hand. I have being here 11 months... This stone has been put on me for the last three days. It's really painful," he complained.
Another man who claimed to have been held captive for a year pleads with the journalist during the call: "We are beaten 24 hours a day, brother I am begging you! Brother I beg you, do whatever you can do. I can't sleep, my chest hurts so much because they beat me with big pieces of steel every hour. They put us out in the sun. They do not give us food for days."
The International Organisation for Migration and United Nations have criticised Facebook for not taking down the video along with a number of other clips of similar content that can easily be found on the social network.
The organisations are deeply concerned that traffickers and criminal gangs are viewing the digital platform as an avenue to extort money from the families of their victims by posting clips of individuals being abused, or even sending WhatsApp video messages to families.
"This is a global problem where a smuggler or a criminal gang can easily use digital platforms to advertise their services, entice vulnerable people on the move and then exploit them and their families. It is high time that social media and tech companies recognise the extreme harm that is occurring because of their failure to monitor and react to situations of grave human rights abuses – leading ultimately to murder – that are being shared through their channels," said Mohammed Abdiker, IOM Director of Operations and Emergencies.
However, Facebook stands firm over what it believes are still allegations and was quoted in an article by the Times defending the footage on the site with the hope it could help to act as a deterrent.
"This specific video was posted to condemn smuggling and raise awareness of the issue, so we would not consider it a violation of our policies," it said in a statement. "We realise the video is disturbing so we have added a warning screen and the video's distribution will be limited to those aged 18 and over."
Europol, the European Union's law enforcement agency, has claimed that traffickers are also using Facebook by creating social media accounts in their thousands in order to promote their services and target "vulnerable migrants with attractive offers for safe sea crossings". Facebook responded by saying such acts violate its Community Standards policy and would be swiftly removed.