George Clooney had a wedding, did you know that? George Clooney's wedding means George Clooney is a married man. He is married because George Clooney had a wedding. DID YOU KNOW THAT?
Also there was a woman at the wedding, his bride, but mainly it was all about George Clooney.
This week, a highly intelligent and successful barrister put on a big white dress and there was a magic spell that meant she got married to an actor renowned around the world for dissolving M&S underwear with his eyebrows.
The lawyer was Amal Alamuddin, who has crept into a degree of limelight by having the controversial WikiLeaks founder Julian Assange, former Prime Minister of Ukraine Yulia Tymoshenko and the King of Bahrain as her clients.
She was the adviser to Kofi Annan. She holds degrees from two world-class universities. She is one of the world's leading experts on Middle Eastern affairs.
However, apparently according to the tabloid press, her biggest achievement to date is getting roguish bachelor Clooney to like it and put a ring on it. You go girl.
We're all supposed to be sad because Clooney got married, which means he's taken himself off the market for every eligible sentient humanoid on the planet.
And what's worse, wails the great mascara-streaked unwashed – she isn't even a celebrity.
Well, not a real one anyway. She hasn't released any albums and she isn't on a talent show judging panel and she hasn't been in one single film. The "stunning British lawyer's" only "real"achievement to date was being voted Number 1 on the'Hottest Barrister List last year.
What a failure. Let us wear black for a year.
We've also taken to calling her "Mrs Clooney" for some reason. I'm not sure why – the woman has a surname, and a bloody good one too. We didn't routinely call Kate Middleton "Mrs Windsor". Is it because, prior to the paparazzi swarming all over her, she wasn't a TV personality?
Her personal brand of female-human-rights-lawyer was just a bit niche for the populace? Yet, through some fluke, Alamuddin is special enough to marry someone as magic and entrancing as Clooney.
Perhaps it was her huge warm eyes and silky, jet-black hair.
The genuinely sad bit about this whole fiasco is that, regardless of her continued success as one of the greatest lawyers in her field, Alamuddin's name will be forever tagged with that of her celebrity partner. Just ask Talia Balsam, whose entire identity is George Clooney's Ex-Wife™.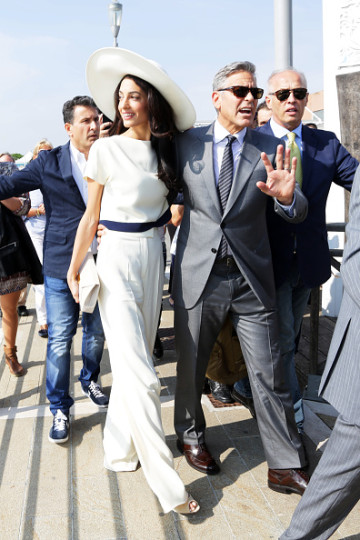 It's already started for Alamuddin; her recent invitation to join a commission investigating Israeli and Hamas war crimes in Gaza has been widely reported on and in almost every headline she's just referred to as "George Clooney's fiancée." (George Clooney's Fiancee™ declined because she had eight other cases on the go, not because her pre-wedding liquid diet was wreaking havoc on her digestive system).
Ruby Hamad pointed out just precisely how creepy it was to lump celebrity nuptials in with news reports on mass genocide.
It doesn't matter who her client is, what case she takes on, what her involvement in the future of foreign affairs entails.
One day she'll be George Clooney's Wife™. Our national press will run stories on how she represented clients wearing a fabulousBalenciaga dress (do they do dresses?) and dragging a diamond ring the size of Ayers Rock around the courtroom.
She might eat a sandwich. The stress of being George Clooney's Wife™ must be quite taxing.
It's not all doom, gloom, and benign sexism though.
In a society where it often feels like we're only a few short years past throwing faeces at the cave walls, Alamuddin's story is a refreshing one.
It proves that there arewomen making a difference, smashing the glass ceiling and changing the world – you just don't know their names because intelligence and integrity are quite big words for celebrity magazines.
In marrying some handsome dude, Alamuddin is inspiring either the murderous envy or the total apathy of the aforementioned faeces-flingers. Honestly, I doubt she cares.
She'd make a very interesting X Factor judge, though.
Lily Rae is a writer and musician. Follow her on Twitter at @ohnolilyrae