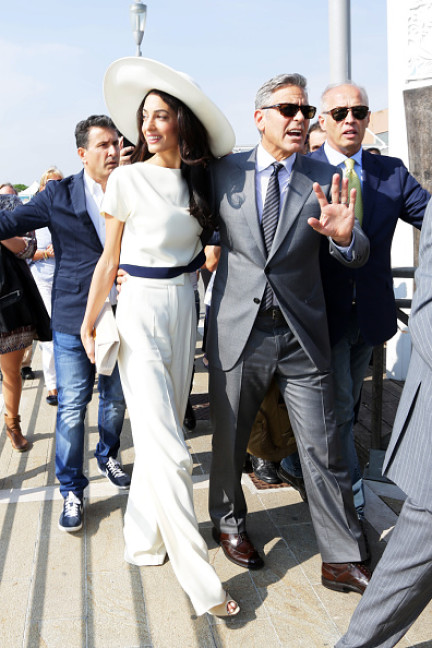 Now that George Clooney and his Lebanese-born wife Amal Alamuddin have tied the knot twice in a span of two days, will we see a similar lightning trail to parenthood?
Alamuddin reportedly turned down Clooney three times before even agreeing to a first date.
Let's analyze some of the issues that might be raised as the couple ponders over parenthood and children.
Will Amal give up her career?
According to George Clooney's Open House, a Clooney fan site, Alamuddin, "has no intention of becoming a typical 'trophy' Tinseltown wife."
The 36-year-old Oxford graduate and human rights lawyer has reportedly told colleagues that she has no intention of quitting her job as a barrister in London despite being married to a Hollywood A-lister.
Rumours suggest Clooney will be supporting his Lebanese better half.
"It is inevitable that there will be a bit of awe but she is in a modern relationship where her partner loves her largely because of who she is and what she does. He will encourage her to keep being what she is and that's great. I can't see why she wouldn't rise to the very top," said Professor William Schabas who is working with Alamuddin on a case of alleged crimes against humanity, where she is representing Abdullah Al Senussi, a former Libyan intelligence chief and Muammar Gaddafi's brother-in-law.
When will they have children?
A source at the wedding reportedly claimed hearing Alamuddin's father, Ramzi Alamuddin, telling his new son-in-law, "Now it's time for grandchildren," confirmed Us Weekly.
Neither Clooney nor Alamuddin have children from previous relationships, and while Alamuddin's father appears keen on seeing his daughter become a mother, Clooney has carried a reputation of enjoying the responsibility-free life of being in a relationship without having children.
Yet, Clooney was also known to shy away from commitment. A month before his relationship with Alamuddin, Clooney told Esquire magazine, "I haven't had aspirations in that way, ever. I was married in 1989. I wasn't very good at it."
In an exclusive interview with People magazine in 2006, Clooney had opened up on marriage and children.
"I think it's the most responsible thing you can do, to have kids. It's not something to be taken lightly. I don't have that gene that people have to replicate. But everything in my life has changed over time."
What religion will the children take on?
A Daily Mail article published earlier this year suggested Alamuddin's mother opposed her daughter's marriage to Clooney on religious grounds.
Clooney later took centre stage to defend the false rumours in an exclusive article published on USA Today in July saying:
"I seldom respond to tabloids, unless it involves someone else and their safety or well being. The Daily Mail has printed a completely fabricated story about my fiancée's mother opposing our marriage for religious reasons. It says Amal's mother has been telling "half of Beirut" that she's against the wedding. It says they joke about traditions in the Druze religion that end up with the death of the bride.
"First of all, none of the story is factually true. Amal's mother is not Druze. She has not been to Beirut since Amal and I have been dating, and she is in no way against the marriage. If they fabricate stories of Amal being pregnant, or that the marriage will take place on the set of Downton Abbey, or that I'm running for office, or any number of idiotic stories that they sit at their computers and invent, I don't care.
"But this lie involves larger issues. The irresponsibility, in this day and age, to exploit religious differences where none exist, is at the very least negligent and more appropriately dangerous."
As the perpetual Hollywood bachelor proved himself wrong once by tying the knot again, maybe he is finally up for twisting his life around into becoming a family man.