The couple of the hour, George Clooney and Amal Alamuddin, captivated press yet again after news surfaced of their 14-minute civil ceremony in Venice's 13-century town hall on Monday.
The brief civil ceremony was a private affair unlike Saturday night's glamorous star-studded party where Hollywood A-listers from Matt Damon to Bono were seen arriving in water taxi rides to celebrate the union of Clooney and his British fiancée at a seven-star hotel on the Grand Canal.
Clooney, 53, was seen in a grey suit while Alamuddin, 36, was wearing an elegant white trouser suit and a matching hat.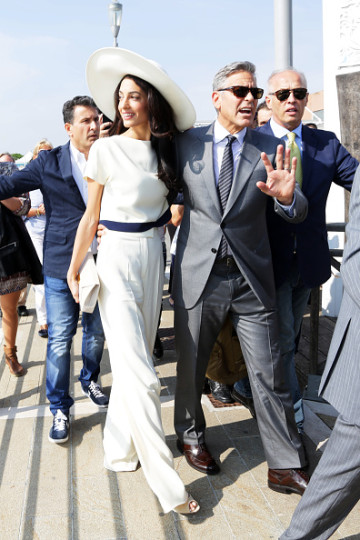 As the couple stepped out of their water taxi and approached the town hall, tourists, Venetians and photographers from around the world cheered on them from the Grand Canal.
"I wouldn't have missed this for the world. What are the chances of being in Venice for George Clooney's wedding? Even from a distance he looks very dashing," said Rina Loizzi, a tourist from Montreal who was visiting Venice by coincidence and managed to catch a glimpse of the stars.
While Clooney's publicists had insisted that the wedding will be a low-key, private affair, the four-day splendour of their wedding marathon proved otherwise.
The couple arrived in Venice on Friday and since then a flood of parties and dinners have satisfied both their Hollywood friends and the press.
"If they had really wanted a secret wedding, then they shouldn't have done it down the Grand Canal," said a Venetian local.