Liverpool face a crucial transfer market. The first one without Steven Gerrard, the soul of the club on and off the pitch, after seventeen seasons. If Xabi Alonso's departure led to gloomy days and poor performances, the former skipper's absence may wreak havoc. And that is, precisely, what Brendan Rodgers wants to avoid in his attempt to reconstruct the Merseyside club's midfield.
Rodgers seems to have chosen the man who can realise his challenging vision at Anfield. According to several newspapers in Spain and the Basque Country - Marca among them - Liverpool has made a bid of €22 million for Asier Illarramendi, the Real Madrid midfielder who has previously starred for Real Sociedad and the Spanish Under-21 side.
At this point, it is important to remark that Rafael Benítez asked Illarra to stay at the club during the preseason, as he knows just how good the player can be. But the amount of money offered by the Reds would allow Real Madrid to recoup a big part of the €30 million invested two years ago.
Despite his last two seasons, in which he has been unable to show the astonishing skills he demonstrated at Real Sociedad, Illarramendi could be the bargain of the summer. It is difficult to guess Rodgers's gameplan for next season in detail, but if we look back at his time at Swansea and Anfield, we can be 100% sure that he will seek possession and an attractive, attacking gameplan. Asier Illarramendi would fit like a hand in a glove.
What would Illarra add to Liverpool's current squad? Well, first of all, it is important to disabuse Merseysiders of an obvious notion. Illarra is not Xabi Alonso. He is not even similar to the World Cup winner. Both play in the same position, both grew up at Real Sociedad's youth academy and both have played for Real Madrid, but this is just a matter of coincidence.
Real Madrid's number 24 is a multi-tasking player who is not a 10 in any aspect of the game, whereas he is a 8 in almost all the facets of football. His most remarkable skills are his short pass - his statistics are truly impressive, normally scoring a 90% accuracy - his tactical intelligence, his ability to recover possession and his out-of-this-world understanding of the game when it comes to remedying his teammates' tactical mistakes.
If Liverpool finally sign Illarramendi and he plays regularly, it would be a surprise if he does not become the team's passing fulcrum. He loves following every play from defence to attack, as Paul Scholes used to do at Old Trafford. Illarramendi is not flawless and he has to improve when it comes to scoring goals and shooting, but his spirit is about other things, other aspects of the game not shown in the highlights reel.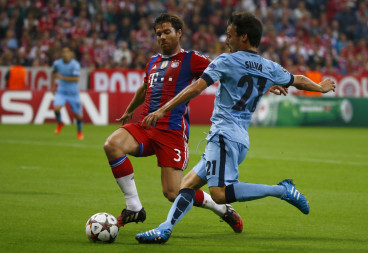 Philippe Montanier, Illarramendi's former manager at Real Sociedad, said that "he is a player who has the ability to improve his team mates thanks to his game style. When we ended in fourth position in La Liga, Griezmann had a key role, scoring goals and giving assists, the same as Carlos Vela or Imanol Agirretxe, but the masterpiece in our system was Illarra, he made the whole thing work".
Liverpool's interest in Real Madrid's number 24 should catch no-one by surprise. The Basque was chosen as midfielder of the year in 2012/13's La Liga and two English clubs tried to sign him. But both Arsenal and Liverpool gave up when Real Madrid showed interest.
Merseyside's fans might be wondering why he has not been able to succeed at Real Madrid as he did at Real Sociedad. Basically, his introverted personality and his lack of experience in such a high-pressure environment have been major burdens. Nobody can say his performances at Real Madrid - 90 games, 18 in European competitions, and 3 goals - have been poor. But it is true that he has not been able to assume an important role in the team, as he did at Real Sociedad.
The high pressure coming from the stands of Santiago Bernabeu, the media critics and even the atmosphere of the Real changing room has affected Illarra's behaviour on the pitch. He would definitely be more relaxed at Anfield, where the fans love players of his style - you can always find Illarramendi in the top 10 of players who run most miles during a game, who recover most possession and pass most accurately.
This summer the Premier League's giants will return to Spain with bulging coffers, burnished by a huge new television deal. Manchester United have signed record sponsorship deals with Adidas and Chevrolet; Arsenal have paid off their stadium and are ready to invest the proceeds from the world's most expensive season tickets; Chelsea and Manchester City will be as wealthy as ever.

'Spain's plucky market traders will be waiting for the Premier League giants again this summer, ready to reap the rewards of English naivety again.'
Oier on how the Spanish clubs will make a fortune from their English counterparts this summer. Read the article here (pic: Getty)
Indeed, Illarra is a great professional. Fans might recall the image of the blonde young talent with a Batman costume taking part in the running of the bulls, but it is important to remark that it took place during a rest day and it is his only mistake during his career. As you can appreciate on his Twitter account, he has spent half of his holidays stregthening his physical condition while practising his other passion: cycling.
Illarra is about to finish a not particularly prolific career at Real Madrid, but if he finally arrives at Anfield, he might return to the astonishing performances shown at San Sebastian. HIs friend Xabi Alonso left an indelible mark at Merseyside and, no doubt, Alonso will recommend him to the Reds. But again, do not expect another Alonso. There's only one Xabi Alonso.
Oier Fano Dadebat is a Spanish journalist who divides his time between San Sebastian and London. You can find out more about him on Twitter @oierfano.