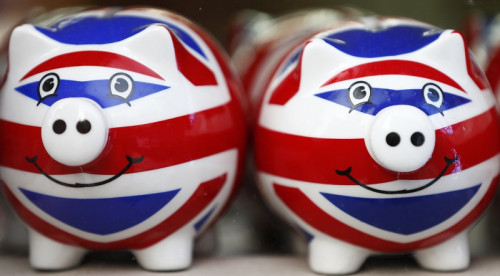 Eleven million people in the UK are at risk of entering "pension poverty" when they retire, so building up a pension pot should be an obligation equivalent to paying taxes for public services, according to right-leaning think-tank Policy Exchange.
Policy Exchange stated that someone earning the average wage (£27,000) will need to save about six and a half times more than they currently do to generate the government's recommended retirement income of £16,200.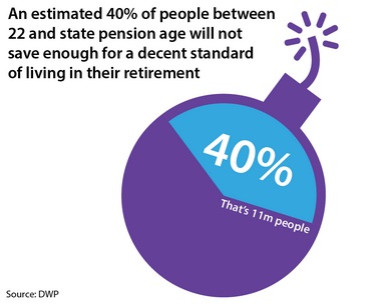 The organisation's most recent report said the average pension pot is estimated to be just £36,800, which on current annuity rates is enough to generate a retirement income of £1,340.
The paper argued that an average earner would need a pot of £240,000, assuming they receive the full single tier pension, to retire.
"People are not saving enough for their retirement," said James Barty, author of the report.
"This is putting an intolerable burden on the state which needs to be addressed sooner rather than later."
The think-tank said that one way to defuse the demographic time-bomb is through a new "Help to Save" scheme, which would make it obligatory for people to save for their retirement by removing the opt-out in the existing auto-enrolment scheme, while also increasing individual contributions to pensions as their incomes rise over time.
Although the organisation supports the recent introduction of auto-enrolment, it warned that even with 8% contributions flowing into a pension on a regular basis people will not be able to save enough for their retirement [Fig 2].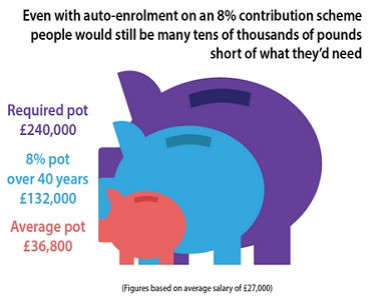 Over a 40 year contribution period, using the 8% contribution rate, someone earning £27,000 would likely be able to save around 55% of what they need to generate the target retirement income.
That figure drops to 40% if that individual takes their tax free lump sum when they retire, according to Policy Exchange.
Dr Ros Altmann, an independent pensions expert and former government advisor, warned: "Solving the pensions crisis is essential. Action must be taken to avoid increasing numbers of older people living on inadequate incomes."