Why Zombies Are Sucker Punching UK's Insurers to the Road to Perdition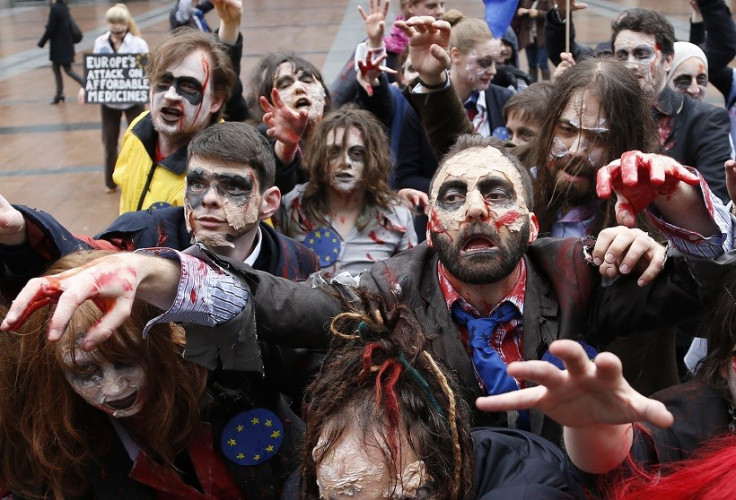 Britain's banking industry has borne the brunt of pay crackdowns, mis-selling and market manipulation investigations, jobs cuts, and general public hatred but 2014 could shape up to be insurance sector's turn.
The Financial Conduct Authority (FCA) is apparently going to tell us on 31 March that is plans to sift through around 30 million policies sold by doorstep salesmen between the 1970s and 2000, to determine whether customers have been mis-sold or 'exploited' through zombie funds
Zombie funds are closed to new customers and companies can run-off its portfolio of insurance liabilities, until the final policy matures, which may be many years into the future.
Investors have already started to abandon the stock as the probe is set to start this summer after the regulator "became concerned about insurers using returns from zombie funds to cover costs from other parts of their businesses."
The FCA will say that it think some insurers have "exploited loyal policyholders, who are not given the same priority as new customers and are charged high fees for substandard service and that savers could get a free exit from rip-off pensions and investments, or be moved to better deals."
While Aviva and Legal & General stocks have tanked by near double digit percentages, at the time of writing this article, Standard Life and Prudential shares have 'only' taken a 2% hit so far.
"All life insurers are clearly not equal," said Mike van Dulken, Head of Research at Accendo Markets.
"Investors are reacting to the possibility the UK's FCA looks set to evaluate an existing 30 million pension and investment policies dating back as far as the 1970s which may have been mis-sold, offer saver little but punitive costs and clauses making them near impossible to exit.
"Should investors be allowed to exit policies and look for a better deal the sector may be punished with large out-flows of money from some zombie funds which may have been acting as cash-cows to offset newer more competitive offerings. Some sector members trading 2014 lows, others near flat YTD, but some holding up remarkably well."
Pensions Bombshell
Zombies are clearly hurting insurance stocks but this is the latest in a line of sucker punches to the insurance industry.
On 19 March, UK Chancellor George Osborne dropped a 'pension bombshell' by saying that policy holders would no longer be obliged to buy annuities.
Effectively, anyone over the age of 55 will be able to take their whole pension pot as cash from April 2015. The policy means retirees will not have to take a compulsory annuity purchase in order to avoid a huge tax bill.
Naturally, insurance stocks took a hefty hit while influential industry bodies were shocked and awed at being blind-sided.
Legal & General shares plunged by over 13% at one point during the day.
The group has said that the UK market for individual annuities will shrink by a whopping three quarters after the government's radical pension reforms.
It predicts that the amount of money going into annuities will drop from £11.9bn to £2.8bn a year after Osborne's 'pensions revolution' comes into force.
Subsequently, the Association of British Insurers (ABI) slammed Osborne for not giving pension and annuity providers advanced warning of his radical reforms.
The ABI, which represents insurance companies in the UK, also claimed that the government has made a "wholly unacceptable" move by not clarifying certain rules.
"Pension and annuity providers were given no advance warning ahead of the Budget changes that came into effect within a 10 day period and have been working round the clock since to help customers understand their choices," said Huw Evans, director of policy at the ABI.
If that wasn't bad enough, the UK government continued to transform the country's retirement landscape with plans to cap charges on workplace pensions at 0.75% of the funds being managed.
The Pensions Minister Steve Webb said the move will transfer £200m from providers' profits into the pockets of savers from April next year.
Fitch Ratings said it is unlikely that insurers will be hit by a credit rating downgrade after the private sector pensions bombshell but all eyes are turning back to the industry again as the FCA unveils its inquiry.
© Copyright IBTimes 2023. All rights reserved.