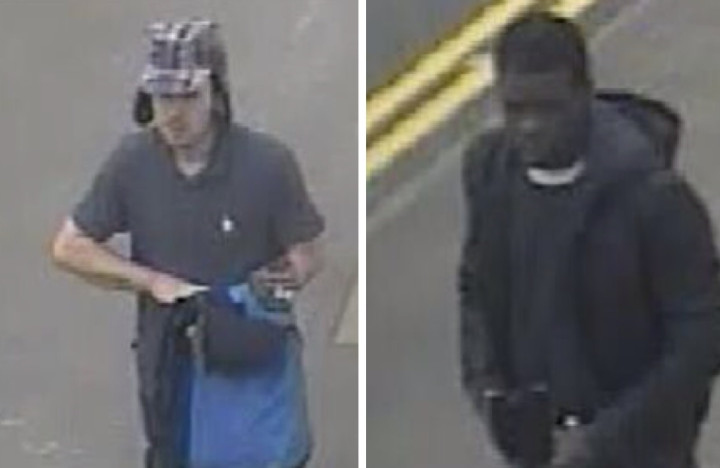 Police are appealing for help in catching two "wicked" thieves seen stealing poppy collection tins in the West Midlands.
CCTV images have been released of the suspects who are accused of taking the poppy tins in a spate of thefts across Solihull.
The men are accused of stealing seven poppy tins in just three days, including one from a pharmacy and one from a petrol station.
Police said on 27 October, two men walked into Meriden Tea Rooms to steal one poppy tin before getting into a green coloured car – possibly a Ford Focus.
Later that day, a poppy collection tin was stolen from Balsall Common Pharmacy and another from a Threshers in Knowle.
Earlier, a man also entered One Stop in the same area and tried to steal a poppy tin by cutting the string attaching it to the counter. However, a member of staff caught him in the act and he then left the shop.
The following day, a man also stole a poppy tin from a petrol station in Kenilworth Road, Knowle. Officers are also looking into reports that Lloyds Pharmacy in Meriden, Blooms Garden Centre in Hampton-in-Arden and One Stop, the butchers and dry cleaners – all in Balsall Common - have also been targeted.
Inspector Allan Green described the thefts as "wicked and deplorable". He added: "This money was intended for service men and women, veterans and their families – people who have risked their lives for our country, and the loved ones of those who gave their lives doing so.
"From our CCTV inquiries, it appears one man usually removes the tin while the other acts as a distraction to anyone who may try and disturb him.
"We are doing all we can to track down the pair but in the meantime, we would urge any businesses with poppy tins to be vigilant and report any thefts to us at the earliest opportunity."
One of the suspects is described as white, 6ft, of a slim build and in his twenties. He is often seen wearing a distinctive checked deerstalker hat. The other man is described as black, around 5ft 11ins, of a medium build and is also in his twenties.
Anyone with information about the identity of the men is urged to call police on 101, or the independent charity Crimestoppers anonymously on 0800 555 111.