Every year in late October, poppy sellers emerge on to Britain's streets. Dressed in monotone anoraks, they cluster around supermarket entrances, train stations, and other spots where the footfall is good.
With brightly coloured plastic buckets by their sides, this army of volunteers present the British public with blue cardboard trays, brimming with little red flowers.
The poppy became the country's chosen symbol of remembrance for those that were killed during World War 1.
It was selected, so it goes, as a reminder of the killing fields of Flanders. The site where shells and shrapnel had brought terror and death to thousands of soldiers, later bloomed with a mass of bright red poppies.
When the British Legion was formed in 1921, it immediately chose the flower as its motif, launching its annual Poppy Appeal the same year.
Turning the Tide on 'Tradition'?
It is a tradition that has endured. As autumn turns to winter, wearing the simple paper poppy eventually became an annual ritual for many Brits.
Indeed, over decades, the small red flower has become engrained into Britain's national psyche.
However, poppy wearing has come under increased scrutiny in recent years, provoking fierce debates on what the bright red petals mean in 21<sup>st century Britain.
A television anchor has refused to wear the flower while presenting the news, while a teacher insisted on the opposite at his place of work, where staff had been told not to wear a poppy.
Far-right political groups have emblazoned the flower on their propaganda, while religious extremists have publicly burned wreaths of poppies in crass publicity stunts.
Political, patriotic and sometimes provocative, wearing a poppy has turned into a highly charged act. It has also become a fashion choice.
The market for designer poppies has bloomed in recent years. Fuelled by a wave of celebrity endorsements, jewel encrusted flowers now compete with their less glamorous paper siblings on the high street in the weeks before Remembrance Day.
Poppies have become an impressive revenue source for the charities that sell them.
In 2013, the British Legion raised almost £40m (€50.2m, $67.4m) through its Poppy Appeal, the largest single income source for the charity, according to its annual report.
Poppy Scotland raises £2m each year from its Scottish Poppy Appeal, according to its website.
The sums are as impressive as the range of poppy paraphernalia available in the charities' online shops.
The classic paper variety are still handed over in exchange for a donation to the charity, large or small.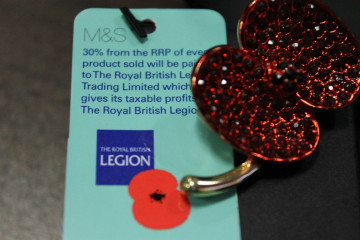 But jewellery sold through the British Legion's Poppy Shop ranges in price from a few pounds for a simple lapel pin, to designer cufflinks costing hundreds.
An entire collection of 100 year commemorative products are now on sale. In the Poppy Scotland shop, these feature trinkets like mugs, key rings and a pin badge featuring the silhouette of a soldier resting with his rifle.
The British Legion's online poppy shop is even more inviting. It boasts of its "stunning jewellery range from brooches to cufflinks ideal for spoiling yourself or that someone special."
A limited edition pair of Spitfire cufflinks, made from "ex-Spitfire metal" will set you back a cool £295.
It states that 100% of the profits from the poppy shop are passed on to the charity.
But the profit on a £49.99 designer brooch would be a much smaller sum going into the charity's coffer than a straightforward donation of £49.99.
Undoubtedly, the charities do excellent work with the revenues generated from their appeals. They provide a robust support network to those that have made great sacrifices.
The British Legion invests millions of pounds in providing health and welfare support for current and former service personnel and their families. The positive impact that the charities have on people's lives should not be understated.
But commoditising the little red flower also comes with a price.
The humble paper poppy used to have an inclusive charm in its uniformity.
When everyone wore paper, it was impossible to one-up friends or neighbours with a shinier, costlier trinket.
If only for a moment each year, the poppy seemed to weld the British people together. It was a great equaliser that disregarded age, skin colour, sex or wealth.
Whether for political of commercial ends, exploitation of the poppy has stripped it of its power.