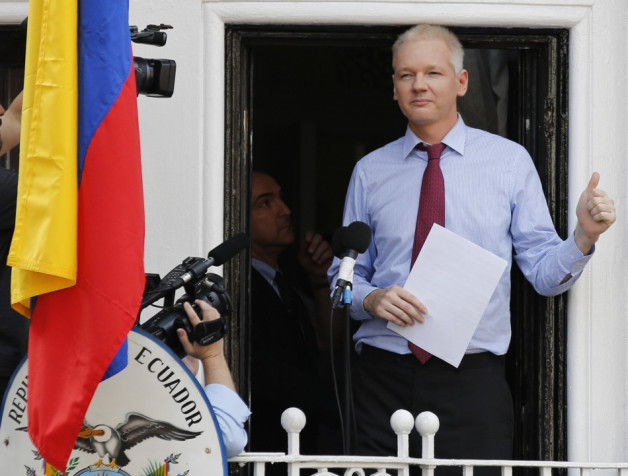 Julian Assange's WikiLeaks organisation received barely enough donations to cover its running costs and stay online last year, according to recently released accounts.
Donations totalled only $68,000 (£44,978) in 2012 according to the Wau Holland Foundation, a German not-for-profit body that processes the money given to the site.
"Since January 2013, the foundation has only been able to cover expenditures in essential infrastructure, such as servers," the report states.
Altogether infrastructure costs totalled $47,000 (£31,000), but another $400,000 (£264,000) was incurred for their campaigns and logistics expenses.
WikiLeaks ran two major campaigns last year.
The Global Intelligence Files campaign published five million emails from the Texan surveillance giant Stratfor, exposing the methods by which it targets individuals for government and private clients.
The ongoing Syria Files campaign has published numerous private emails from government officials, political figures and private companies in the country, shedding light on the country's ongoing civil war and the role played by Western governments.
The documents show that Assange was paid nothing from the site's funds.
"The coordination of the content related tasks is performed by Julian Assange on base of a project-contract. He is also responsible for the content-related approval of tasks. This work was done voluntarily without any financial compensation in 2012," states the report.
The accounts mark a sharp decline in fortunes for the site, which received $1.9 million (£1.2 million) in donations in its 2010 heyday, when it published a cache of top secret US diplomatic cables leaked by US Private Bradley Manning.
Subsequently PayPal, Mastercard, Bank of America and Visa all froze transfers to WikiLeaks, claiming the site had breached its terms of service.
A French company re-opened transfers through Mastercard and Visa last year, however the latest accounts show that the majority of donations came through bank transfers, cheques and cash payments.
Earlier this year a court in Iceland ruled that Visa's Icelandic partner Valitor had acted illegally in blocking payments to the site, and ordered it to start processing donations again.
WikiLeaks is taking similar action against other countries over the ban, and has complained to the EU that it constitutes anti-competitive behaviour.
The financial blockade on the organisation began to take its toll in 2011, when its donations dropped to $180,000 (£119,000), whilst its expenses rose to $850,000 (£562,000), up from $519,000 (£343,000) the previous year.
Assange is currently living in the Ecuadorian embassy in London after fleeing there to escape extradition to Sweden to face rape allegations.
He claims the charges are politically motivated, and that he will be extradited to the US, where he could face execution, if he returns to Sweden. Last August he was granted asylum by Ecuador, but the British police say they will arrest him if he leaves the confines of the embassy.
In our original article we stated that Mr Assange has been formally charged. This is not the case. We apologise for any offence or misunderstanding this may have caused.