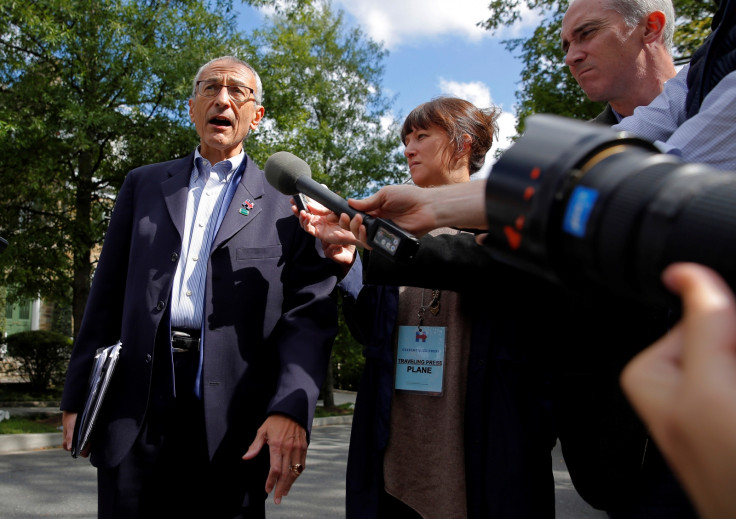 A new email released by WikiLeaks on Tuesday (18 October) from Hillary Clinton's campaign has revealed a list of 39 potential vice presidential picks that the Democrat was considering. The potential candidates were divided into "rough food groups", including women, blacks, Hispanics and business leaders. Among the potential running mates were Bill and Melinda Gates, Vermont Senator Bernie Sanders and Apple's Tim Cook.
The list was included in an email, campaign chief John Podesta wrote to the Democratic nominee on 17 March, following her wins in five state primaries. Other vice presidential possibilities included Starbucks chief executive Howard Schultz and Massachusetts Senator Elizabeth Warren.
Several of the choices proposed to Clinton have never held office, but would be on a ticket opposing a Republican nominee who also has not held office, The Christian Science Monitor noted. It is unclear if the business leaders showed any interest in joining the Democratic ticket.
"I like my current job at the [Bill and Melinda Gates] Foundation better than I would being President," Gates wrote in a Reddit AMA earlier in the year. "Also I wouldn't be good at doing what you need to do to get elected. I though Michael Bloomberg was thoughtful about why it didn't make sense for him to try and run even though he is a great executive."
In a New York Times op-ed, Schultz expressed similar sentiments regarding the presidential race. "Despite the encouragement of others, I have no intention of entering the presidential fray," he wrote, adding he was not done at Starbucks and that "there is more we can do as a public company to demonstrate responsible leadership".
Clinton eventually settled on Virginia Senator Tim Kaine, who was in the group of white male politicians, the report said.
According to SFGate, Podesta wrote to Clinton that he had come up with the list with the help of campaign manager Robby Mook, communications director Jennifer Palmieri and aides Cheryl Mills and Huma Abedin. The message also shows him arranging the vetting of candidates.
The Clinton campaign has not confirmed the authenticity of the alleged Podesta emails and has suggested that some may have been altered. It has also blamed Russian hackers for targeting the Democratic Party in a bid to intervene in the presidential election.
SFGate reported that campaign officials have also questioned whether associates of GOP nominee Donald Trump have helped Julian Assange's organisation to spread the messages. On Tuesday (18 October), WikiLeaks claimed Ecuador had cut off Assange's internet access at their London embassy. Ecuador has given Assange asylum in its UK embassy and will continue to do so, Foreign Minister Guillaume Long said.