A hideous half-naked statue of Hillary Clinton sparked angry confrontations in New York's Financial District after being erected by an artist this morning (Tuesday 18 October). The caricature of the Democratic presidential hopeful appeared outside the Bowling Green subway station, in lower Manhattan, around 6am causing rush-hour commotion.
The graphic statue features a banker in a lewd pose with an open-robed Clinton who has her breasts exposed and with goat's hooves for feet.
Commuters who gathered to view the statue scuffled and argued whether or not to remove the piece. By 8.30am it had been thrown to the ground by one angry onlooker and removed from the site.
The artist who made the statue was named as 27-year-old artist Anthony Scioli by the New York Daily News. He was spotted desperately trying to stand the sculpture back up, but onlookers prevented him from doing so.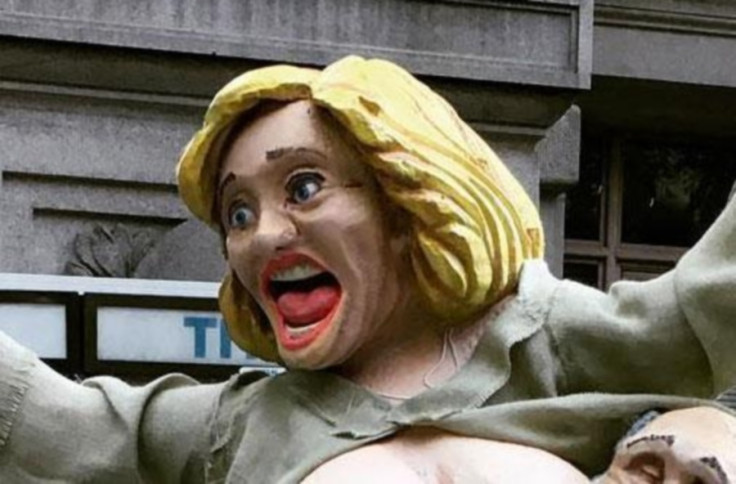 One woman, identified as Nancy, an employee at the nearby National Museum of the American Indian, shouted: "This is obscene. To put something up like this in front of my workplace – I shouldn't have to see this." Another irate woman broke off parts of the statue, sat on it whilst scuffling with the artist.
The statue is similar to a nude depiction of Donald Trump erected in August in the city's Union Square Park, entitled "The Emperor Has No Balls". Several naked statues of the Republican nominee popped up in Cleveland, Los Angeles, New York, San Francisco and Seattle after being produced by an art-activism collective INDECLINE.
Eventually Scioli was ordered by counter-terrorism police to remove the sculpture because he did not have the proper permits to erect the statue at that site. "Yeah, I hope they put you in cuffs," Scioli said according to the New York Post. "I'm just trying to preserve my art here."
Some of the onlookers believed that the statue should stay up because of freedom of speech and freedom of expression laws in the country. "This lady shows up and tips it over and starts assaulting anyone who tried to put it back up," one witness, Gene H, 39, said.
Voters in the US will have one last chance on Wednesday (19 October) to see Hillary Clinton and Donald Trump battle it out onstage in a final bid to attract support before the 8 November election.