WikiLeaks urges supporters to 'stop taking down the US internet' following massive DDoS attack
'You proved your point,' WikiLeaks tweeted on Friday.
Whistleblowing outfit WikiLeaks has urged its "supporters" on Friday (21 October) to stop taking down the internet in the United States following a massive distributed denial of service (DDoS) attack that knocked multiple major sites offline. WikiLeaks supporters claimed responsibility for the series of cyberattacks targeting Dyn, one of the companies that run the internet's domain name system. The incident crippled a slew of popular websites including Twitter, Netflix, Reddit and Spotify among others, preventing users from accessing the sites across the US and Europe.
"Mr. Assange is still alive and WikiLeaks is still publishing," the site said via Twitter. "We ask supporters to stop taking down the US internet. You proved your point."
Shortly after, the site tweeted saying, "The Obama administration should not have attempted to misuse its instruments of state to stop criticism of its ruling party candidate."
Two DNS tools, DynDNS and Amazon Web Services, both reported experiencing outages on Friday. While DynDNS attributed its own outage to a DDoS attack, Amazon did not specify a cause for its own disruptions yet.
The Department of Homeland Security and the Federal Bureau of Investigation said they were monitoring the incident and "investigating all potential causes," but have not mentioned any possible suspects.
"The complexity of the attacks is what's making it very challenging for us," said Dyn's chief strategy officer, Kyle York, Reuters reports.
On Friday, WikiLeaks tweeted that "heavily armed 'police' appeared outside Ecuadorian Embassy in London where Julian Assange has political asylum" alongside a photo allegedly taken on Tuesday morning.
Hacktivist groups Anonymous and New World Hackers claimed responsibility for the attacks on Friday, Politico reports.
"We didn't do this to attract federal agents, only test power," two collective members, identifying themselves as 'Prophet' and 'Zain' reportedly told an AP reporter via Twitter direct message exchange. They also added that more than 10 members participated in the cyberattack.
However, multiple security researchers are sceptical about the hackers' claims for the outage.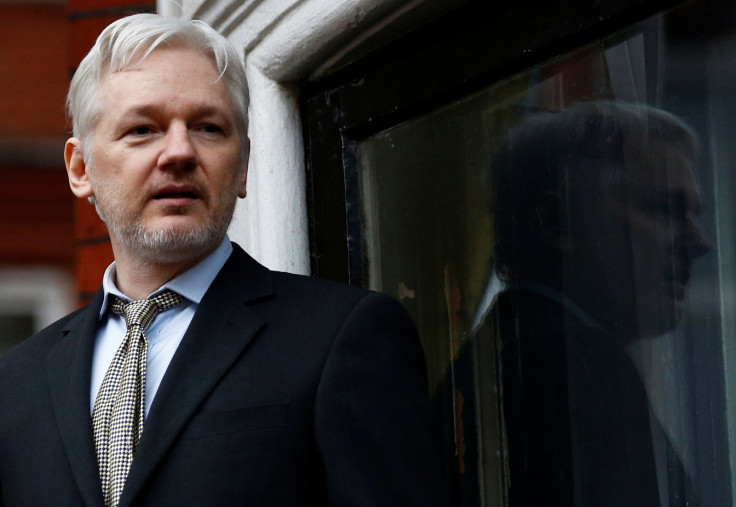 WikiLeaks founder Julian Assange makes a speech from the balcony of the Ecuadorian Embassy, in central London, Britain on 5 February 2016
Reuters/Peter Nicholls
Friday's massive downtime occurs just days after Ecuador admitted "temporarily restricting" Assange's internet, saying it believed the connection was being used to meddle in the upcoming US election in November.
"The Government of Ecuador respects the principle of non-intervention in the internal affairs of other states," the Foreign Relations Ministry said. "The Government of Ecuador respects the principle of non-intervention in the internal affairs of other states. It does not interfere in external electoral processes, nor does it favour any particular candidate.
"Accordingly, Ecuador has exercised its sovereign right to temporarily restrict access to some of its private communications network within its Embassy in the United Kingdom. This temporary restriction does not prevent the WikiLeaks organisation from carrying out its journalistic activities."
It also noted that the Ecuadorian government "does not cede to pressures from other countries."
WikiLeaks previously accused US Secretary of State John Kerry of pushing Ecuador to stop Assange from publishing additional Clinton documents during the Farc peace negotiations. The US State Department quickly denied the accusations.
Assange has been residing at the Ecuadorian embassy in London since June 2012, fearing extradition to the US on espionage charges based on WikiLeaks' publication of explosive documents given to the website by Chelsea Manning. He is also wanted for questioning in Sweden for alleged rape allegations in 2010.
© Copyright IBTimes 2023. All rights reserved.