The Wikimedia Foundation (WMF) is doing its annual fundraising drive where it beseeches all visitors to Wikipedia to make small monetary donations as it runs zero adverts, surviving primarily on donations and the help of thousands of volunteers.
According to the non-profit's official blog, WMF is looking to raise $25m (£16.6m) in December 2015, and is urging all its readers to give £2 each on huge site banners that take up half of the page when you first load the website.
Dear readers,
We'll get right to it: This week we ask you to help Wikipedia. To protect our independence, we'll never run ads. We're sustained by donations averaging about £10. Only a tiny portion of our readers give. Now is the time we ask. If everyone reading this right now gave £2, our fundraiser would be done within an hour. That's right, the price of a cup of coffee is all we need. If Wikipedia is useful to you, please take one minute to keep it online and growing. We're a small non-profit with costs of a top site: servers, staff and programs.
We serve millions of readers, but run on a fraction of what other top sites spend. We believe knowledge is a foundation. A foundation for human potential, for freedom, for opportunity. We believe everyone should have access to knowledge—for free, without restriction, without limitation. Please help us end the fundraiser and improve Wikipedia. Thank you.
The thing is, does WMF even have to worry about fundraising? The Washington Post has written a scathing article entitled 'Wikipedia has a ton of money. So why is it begging you to donate yours?' that points out that Wikipedia already has a great deal of assets.
In the fiscal year ending June 2014, WMF reported net assets in excess of $77m, which is 1.5x more than the non-profit claims it needs to fund the website for a year. WMF says that its single biggest donation day last year was 3 December 2014, where the website raised $2,526,603, or $29.24 per second.
Considering that running Wikipedia's servers costs $38,000 a week, this means that just from that one day it could afford to run Wikipedia's servers for 66 weeks. The $25m that WMF wants to raise this year would run the servers for 657 weeks: 12 and a half years.
This means that whatever you donate, it's probably going into a reserve will not be needed as urgently as WMF claims. So should we still be donating?
Should we still be donating to Wikipedia?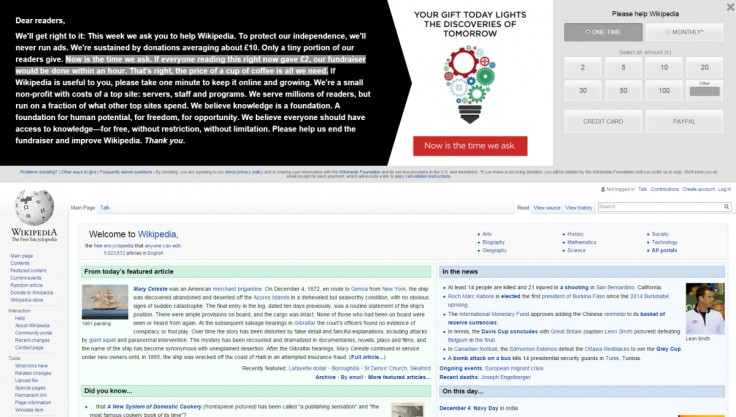 Although its net assets were $77m, WMF says that in the fiscal year ending June 2014, its expenses totalled $52.6m. However, just five years ago in 2010, Wikipedia's assets were only $14.5m and its expenses a mere $10.3m. So what on earth are they spending the money on today?
A casual Google search turns up an article by the Register from December 2012 complaining about the exact same issue. The 2012 Wikipedia UK report admitted that Wikimedia Foundation UK racked up a bill of £1,335 on business cards, while €18,000 was allocated by Wikimedia Germany to send volunteers to pop concerts in Germany as "accredited photographers".
Today, Wikimedia doesn't list out what its spending its money on, but we can guess what at least one of the expenses this year will be – it's probably not cheap to sue the NSA for mass surveillance.
"Based on guidance from the Wikimedia Foundation Board of Trustees, our reserve amounts to one year of operating budget," said Samantha Lien, a spokeswoman for WMF. "If there were circumstances that affected our ability to raise those funds during that period, we could end up in an urgent situation — the reserve is a safety net to protect Wikipedia against such a possibility."
However Andrew Lih, an associate professor of journalism at American University and the author of The Wikipedia Revolution, doesn't think that there is any chance of Wikipedia going bankrupt.
"People will come up to me during fundraising season and ask if Wikipedia's in trouble," he said. "I have to reassure them that not only is Wikipedia not in trouble, but that it's making more money than ever before and is at no risk of going away."
But everyone is still using Wikipedia
According to the Charity Commission, the UK's charity watchdog, there is no set amount of reserve that a charity is allowed to keep. However, "larger charities should identify the level of reserves held and explain why they are held", the Charity Commission told IBTimes UK.
All charities must also ensure that their charity abides by the Code of Fundraising as set out by the Institute of Fundraising, and if charities are found to be flouting the code, the Fundraising Standards Board will investigate.
While this would not apply to the entirety of the WMF, Wikimedia UK is a registered charity in the UK, and as such, could be investigated if donors feel that there is a problem and want to complain.
So should Wikipedia continue to ask for fundraising when it clearly isn't in the red? The WMF says that more people are reading the website on their mobile devices, so this technically means that less people will even see the donation banner as it doesn't work on the mobile version.
If you feel there is a problem with this and want to complain, you could, but then again, everybody's still using Wikipedia every day for their information, so maybe £2 isn't that big a deal.