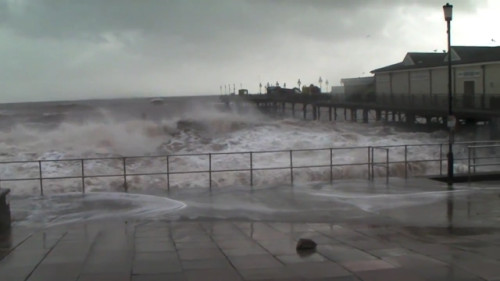 Residents on England's south coast have been put on evacuation alert after huge waves swept violent tides inland.
Wild weather has caused people living in Dorset, Devon and Cornwall to think about leaving their homes as torrential rain and high-speed winds uprooted trees and flooded rivers.
Weymouth, in Dorset, has seen two severe flood warnings enforced while piers and harbours are bearing the brunt of turbulent conditions.
Up to 40mm of rain has been forecasted to fall along the south coast today, where many areas are already saturated from recent storms and floods.
The downpours mean the Somerset Levels, which have been transformed into lakes after severe flooding, will get no respite from the weather.
To add to the chaos, the Met office has warned of potential flooding at the weekend.
It said: "Further spells of heavy and persistent rain will affect southern parts of England and south Wales from Thursday afternoon until Friday morning, and again from late Friday evening until early Saturday followed by frequent heavy showers.
"Gales will accompany the rain during Saturday with severe gales likely for exposed coasts in southwest England. The public should be prepared for disruption due to flooding."
Prime Minister David Cameron chaired the government's emergency Cobra committee and said everything would be done to help those affected by the storms.
He announced an extra £100 million would be available to help with flood repairs and maintenance.