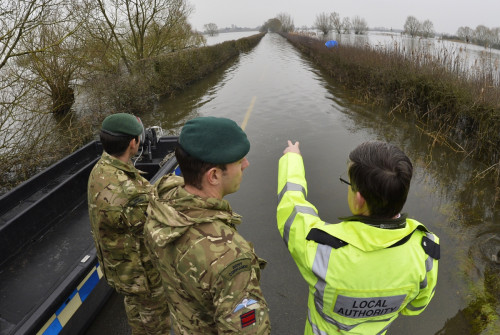 The UK's Environment Agency has warned people in Wales and western England to be prepared for yet more flooding, which could pose a serious risk to life.
Flood warnings are in place along the river Severn, Britain's longest river, and "extraordinary measures" are being taken in Gloucestershire as high tides, strong winds and heavy rain combine to potentially deadly effect.
Cobra, the government's emergency committee, has met again to discuss how best to safeguard those areas most at risk. Areas of northern Cornwall and Devon are also in danger and alerts are in place along the south coast as far as Kent.
Somerset has been particularly badly affected, with some areas underwater or cut off for weeks. Prince Charles, who this week called climate-change deniers "headless chickens", will tour the worst-affected areas. Residents have said they are living with "third-world" conditions with over-flowing septic tanks. All three military services are on stand-by to help out in an emergency.
The deputy chief executive of Somerset County Council, Pat Flaherty said: "We're still working very closely with the military who remain in Somerset, planning with us and we also have the resilience of knowing that their equipment and personnel are ready to be mobilised."
January 2014 has been the wettest on record in the UK, and snow is blanketing some of the north. University students in Aberystwyth have been told to leave their sea-front halls of residence as another tidal surge is expected, its huge waves threatening to batter the town for the second time in a month. Ireland has also been affected by floods, heavy rain and snow.
Glastonbury Festival organiser Michael Eavis said the government had "abandoned" Somerset for 40 years by scrapping river-dredging machinery:
"There is flooding every year now; it's a serious disaster, a serious problem. It's impossible to live there and run the whole dairy industry. We've been campaigning for years to get this sorted out. Finally, I think the prime minister is going to deal with it and get the money to do the job, but it's taken a long time to get there."
See the UK flooding from the air in the YouTube video below: