As Britain awaits incoming prime minister Theresa May, the political future of Chancellor George Osborne, and the proposed ditching of his austerity plans will in all likelihood plot the course of the early days of her administration.
In the six years that David Cameron occupied 10 Downing Street, his colleague and close confidant Osborne – one the great political bruisers of modern British politics – has been in the house adjacent, managing the Treasury's purse strings.
When Cameron announced the referendum on Britain's membership of the European Union, Osborne wholeheartedly embraced the PM's advocacy of the country remaining in the bloc. As events of 23 June displayed, both lost the argument and Cameron promptly announced his resignation.
It also brought to an end the amicable pairing of a prime minister and chancellor that was worlds apart from the alleged friction and acrimony between predecessors Tony Blair and Gordon Brown.
Osborne's support for Cameron over the course of the referendum campaign was to be expected. Both men have stood by each other practically throughout their entire political careers. Before entering government, as leader of the opposition Cameron backed then Shadow Chancellor Osborne's pledge of no "unfunded, upfront tax cuts" were they to gain power, against many within their ranks.
Then there was 'yacht-gate' in October 2008, when Osborne faced allegations from fancier Nathaneil Rothschild that he had "tried to solicit" a political donation from Russian metals tycoon Oleg Deripaska – which, if true, would have been a violation of the law against UK political donations by foreign citizens. Cameron backed Osborne, nothing was ever proven and the storm blew over.
When Cameron's Conservatives went into power with Nick Clegg's Liberal Democrats, Osborne was appointed chancellor on 11 May, 2010 marking a spectacular rise for the MP from Tatton, Cheshire, who had entered parliament in 2001.
Once in office, Osborne set about his pledge of reducing the deficit of a financial crisis ravaged Britain, seeking up to 25% cuts in government expenditure, often sparring with fellow ministers and coalition partners over his plan for austerity, and quipping that the country had to live within its means with Cameron by his side.
With balancing the books proving to be ever trickier, the 2012 'omnishambles' budget came into sight as Osborne levied VAT on food items such as Cornish pasties when served above a certain temperature. The 'pasty tax', as it was subsequently dubbed, was soon reversed.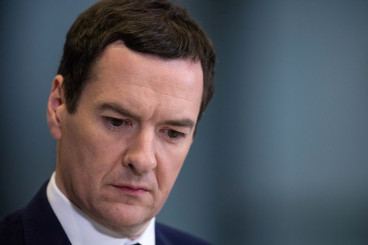 The UK went on to lose its AAA credit rating in 2013 for the first time since 1978 as Osborne's books – while in a better shape than his predecessor's – were nowhere near as balanced as he had pledged.
Being reappointed as Chancellor in Cameron's majority Conservative government in 2015, Osborne scored some significant victories. Introduction of the living wage at £7.20/hr, a sugar tax, raising the tax-free allowance for low income earners to £11,500 and buttressing the BBC to fund the £700m welfare cost of free TV licences for the over-75s – equating to almost 20% of its income – were key Osborne victories.
The question is how will Theresa May view Osborne's good, bad and ugly side. With the dust far from settled following a vote to exit the EU by the British public, something both Osborne and May, had warned against, the former heaped praise on the latter.
On a trade mission in the US, Osborne said: "I have sat round the cabinet table with her [Theresa May] for six years and she has got the integrity, strength and leadership our country needs.
"In Britain, here in New York, and around the world, the British economy needs certainty. It is in everyone's interest that she takes up that position as prime minister in the coming days."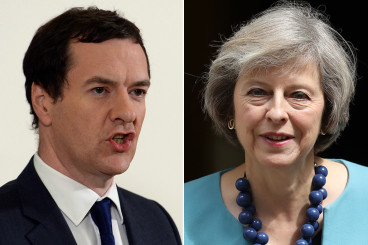 However, it is May's verdict on Osborne that the market awaits. Now expecting to be prime minister in a matter of days, she could well opt to keep Osborne in the job for the sake of stability. However, the odds are stacked against it.
Osborne riled Brexit campaigners in his own party by warning he would impose wide ranging tax rises and spending cuts if Britain voted to leave the EU; a move that spectacularly backfired making his current position untenable in the eyes of friend and foe alike.
May has already said she would dump Osborne's austerity and opt for a different kind of stimulus-led Brexit budget, details of which are as yet unknown. Her soundbites suggest its curtains for Osborne as far as his Treasury office goes.
However, May is likely to keep Osborne around. If the bookies and Westminster gossipers are to be believed, perhaps the next chapter of the political bruiser's life might well be in the foreign office. Were that to be the case, it could well be the defining appointment of a nascent Theresa May administration.