In typically raucous style, the British Comedy Awards were littered with controversial quips and on stage cock-ups. But it was Jack Whitehall's night nevertheless, as he was awarded the coveted comedy crown.
Winning the public's vote, the Fresh Meat star was pronounced the British King of Comedy, beating off competition from comedy stalwarts Alan Carr, David Mitchell, Graham Norton, Lee Mack and Sarah Millican,
He was also named the Best TV Comedy Actor, while Miranda Hart reclaimed the Best TV Comedy Actress title she last won in 2011.
Paying tribute to his Fresh Meat co-stars, Whitehall said: "Thank you so much for this award. It means so much to me. And I want to collect this for all of the fresh meat cast because they are all amazing. I am so lucky to be in that cast because you're all so talented and I share this award with you."
Host Jonathon Ross raised eyebrows with his unforgiving references to Nigella Lawson's alleged drug use, an un-pc remark about apartheid and commenting that this year, British comedians had been "busier than Justin Bieber in a brothel."
Into it's 13<sup>th year, the event attracted the biggest names in British comedy including James Cordon, Steve Coogan, Lee Mack, Paul Whitehouse as well as US star Will Ferrell.
Appearing as his anchorman character Ron Burgandy, Ferrell collected the award for the British Comedy International Award joking: "Tonight has been an absolute train wreck. Located in some sort of circus barn. It's been capped off by the presentation of this award to Will Ferrell. I am no fan of Will Ferrell. He's a fat-faced fool who's not funny. And tragically he's not even British."
Alan Carr and Graham Norton proved they are the kings of the chat show with Carr picking up Best Comedy Entertainment Personality, while Norton won Best New Comedy Entertainment Programme.
Collecting his award the apparently drunk Carr said: " You always feel a bit of a d**k when you receive personality. I'm bubbly. I don't really have a personality. I like to have a bitch and a giggle. I've been drinking," he admitted.
Lee Mack took home the prize for Best Male TV Comic for the second year running while his BBC One show Would I Lie To You picked up Best Comedy Panel Show.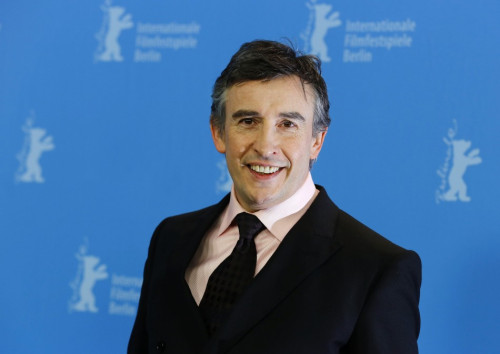 Legendary comics Paul Whitehouse and Harry Enfield won the Best Sketch Show prize for Harry & Paul, while Whitehouse was also awarded The Writer's Guild of Great Britain prize. Collecting the award, Whitehouse had the audience in hysterics as he was joined on stage by a man interpreting his speech in sign language, in a reference to the controversial sign language expert at the Nelson Mandela memorial.
Receiving his second award of the night for King of Comedy from I'm a Celebrity stars Joey Essex and Amy Willerton, Whitehall's father, in mock annoyance stormed the stage, reprimanding his son for not thanking his parents earlier and calling Jonathon Ross an a**ehole, having been made quite literally, the butt of his jokes the entire night.
Finally collecting his award Whitehall, said: "It's an honour to win this on the same night as Steve Coogan, Paul Whitehouse and Will Ferrell. All my comedy heroes."
Closing the show, Steve Coogan was presented with the Outstanding Achievement Award for the seventh time. Receiving the award from producer/ director Richard Curtis, Coogan began his thank you speech but the event, which had been marred by glitches throughout was abruptly halted.
With the end credits running over Coogan's moment, the comedian gave up his speech, despite Ross's protestations to continue.
With flashes of controversy, most notably a reference in a letter from the absent Rob Brydon to the Yewtree investigation, and with Johnny Vegas drawing gasps of shocked laughter as he mocked the event sponsor Foster's, the evening was comparatively tame compared with previous years.
In 2012, Sacha Baron Cohen - playing Ali G - joked about wearing a tracksuit belonging to disgraced former broadcaster Jimmy Saville. And, in 2008, the cast and crew of The Inbetweeners were pelted with objects thrown from the audience.