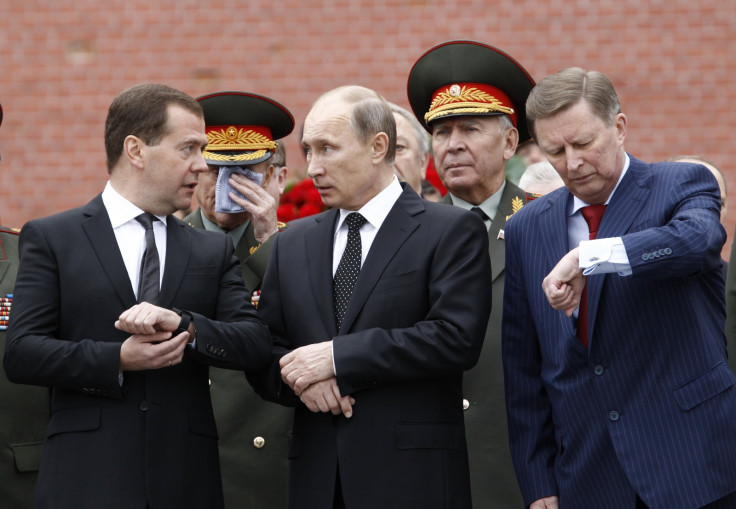 Russia's shock-and-awe raise of interest rates from 10.5 to 17% has put the legitimacy and viability of president Vladimir Putin under serious strain, with the real danger of a military coup as the worst case scenario, according to a leading Kremlinologist.
The central bank's desperate attempt to shore up support for the ruble, which has plummeted 50% on the year against the dollar, is unlikely to work beyond the short term. Russia's economy needs lower interest rates to boost growth, but its companies need higher interest rates to support the ruble.
The 17% rates are likely to send Russia's spluttering economy into a deep slump if the oil price remains depressed. Indeed intensifying the agony for Russia, for the first time since May 2009, the price of Brent crude oil has fallen below $59 a barrel as a result of waning demand and increased supplies.
Because of that, ordinary Russians will suffer unimaginable mounting financial pressure, hitting wages, credit cards payments and mortgages.
In other, classic examples of emerging market crisis, countries tend to seek external help. But Putin's actions in Ukraine, which has seen Moscow annex the Crimean peninsula and fuel an internal battle between Kiev and pro-Russian separatists, have increasingly isolated him from the world powers.
Aloof and paranoid, Putin is surrounded by three powerful political clans which have been in tumult for the past two years.
"Many believe that Putin is isolated and effectively only an arbiter caught between powerful interest groups," Anastasia Nesvatailova, professor of international political economy at City University London, told IBTimes UK.
But who are the main groups and who are the actors involved?
The main problem is that the influence of economic liberals in Russia has waned since the start of the Ukraine crisis which has strengthened the position of Kremlin's hawkish Siloviki officials.
"It is clear among Russian experts that Putin's handling of the Ukraine crisis had a geopolitical not economic agenda. "Putin is the dark horse. He's never been economically clever, never had an economic strategy different from oil prices," said Professor Nesvatailova. "Only external help may come from China, which will ask for something in return."
Russia, like the USSR before, has no solid economic strategy and can be better described as an oil exporting business that sponsors everything else. "In the worst case scenario, an army coup led by the Siloviki clan will take over the country," Prof. Nesvatailova warned.