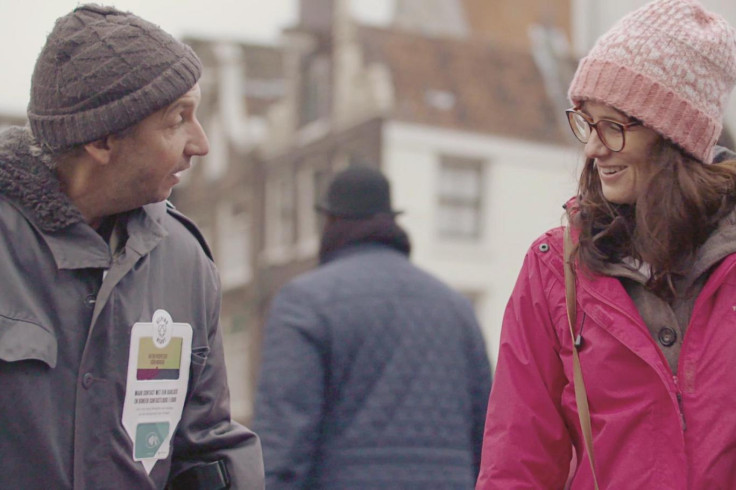 An innovative new method of donating money to the homeless using a contactless payment system fitted to a winter jacket has reportedly been tested on the streets of Amsterdam.
The product was designed to let well-wishers give one Euro with the tap of a card, money that can later be redeemed for meals, a bath or an overnight stay at a homeless shelter.
The prototype winter coat itself is much like any other, with warm linings, heavy material and a fur hood – yet also comes with an in-built contactless payment system and a logo that reads "Helping Heart."
Aiming to adopt to an increasingly cashless society, media firm N=5, which came up with the idea, claim the product is designed to work directly with shelters in the region. It is a welcome technological advancement, but one that remains in the early stages.
An N=5 spokesperson, speaking to IBTimes UK via phone, said the jacket had been trialled for a "couple of days" before Christmas and described the initial reactions from both homeless participants and charitable organisations as "very positive."
The firm is now reportedly looking for more companies to work with on furthering the idea, yet remained vague about some key technical details. To date, only one jacket has been made and the spokesperson could not comment on how much money it cost to produce.
According to Dutch publication Het Parool, which first reported news of the payment design, the contactless jacket idea was supported by Dutch bank ABN Amro.
Statistics indicate the number of people without a permanent place of residence in the Netherlands increased from roughly 13,000 to 31,000 in the years between 2009 and 2015.
"Homeless people who want to buy cans of beer, have nothing to gain from this jacket, they just want cash," said Annemiek van Bemmelen of StoelenProject, a homeless shelter in Amsterdam. "But the very people who want to make something of their lives again, can benefit enormously from it."
Meanwhile, N=5 employee Silvia van Hooft told the Indy100: "[Firstly], these days we tend to carry little or no cash at all. Secondly, most people would like to help the homeless, but they feel that giving money basically goes to supporting addictions.
"So, we wondered: how we can make it easier for people to help others who need it?"
She added: "They [the homeless] have embraced the fact that it takes away the concern of how your donation will be spent. Organisations for the homeless are also very positive about the fact that it contributes to more than just immediate challenges."
---
IBTimes UK contacted N=5 requesting additional information about what firms helped design the contactless jacket, how much it will cost to produce and what plans are underway for future roll-out however had received no response at the time of publication.