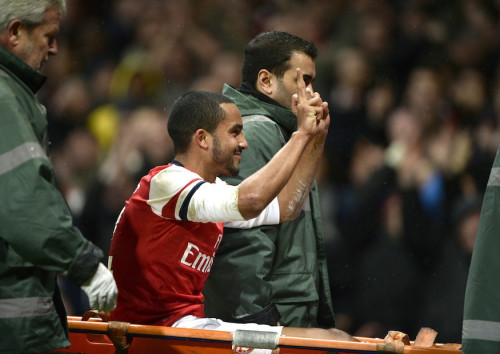 Jack Wilshere has predicted that Theo Walcott will become a legend for Arsenal after his gesture towards Tottenham fans as he was stretchered off with a knee injury.
The Gunners were leading their bitter rivals 2-0 at the Emirates on Saturday evening when Walcott required treatment on the pitch in the second half. As he came off he was reportedly pelted with coins and responded with a smile and a signal of the scoreline.
Arsenal went on to win the game and as Wilshere comes off the back of missing two matches for signalling the middle finger at Manchester City fans the midfielder admits he should learn to be less offensive after Walcott's gesture failed to earn him a punishment.
"He's a bit smarter than me, I suppose," he said when questioned about the two incidents.
Wilshere continued: "He'll be an Arsenal legend now. They love Theo already and this is only going to help him.
"[The Tottenham supporters] were giving it to him and he's given a little bit back. I think people have got to look at it as banter."
Wenger also supported Walcott in his actions insisting that they weren't meant in a rude way but former FA boss David Bernstein has claimed that the England international showed a lack of respect to the supporters who paid big money to attend the match.
"The key word is respect," he told BBC's Sportsweek programme.
"I think it is incumbent on everyone involved in football whether it be players, spectators, manager or officials, to behave with respect - it is a blanket word and all of these incidents generally show a lack of respect.
"They [the FA] will look at it for sure, I can't judge what they will do but they will look at it for certain."