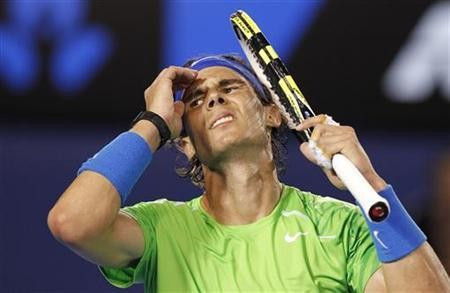 As much as one would like to believe humanity is a forward-thinking species that embraces change and the periodical overthrow of the established order, the reality is an inverse of that condition. We do not like change... it upsets us... it alters the rhythm of what should be and what ought to be. A little change is all right because it keeps some parts of the world on its toes but anything that affects the colossi of our times is unwelcome. And Rafael Nadal's defeat to Lukas Rosol, in the second round of the 2012 Wimbledon Championships is an upset of epic proportions - 6-7 (9-11), 6-4, 6-4, 2-6, 6-4.
Nadal, along with Swiss master Roger Federer and Serbian Novak Djokovic, has, for some time now, formed a holy trinity in the world of competitive men's singles tennis and, between the three of them, have won every Grand Slam since the 2009 Australian Open.
The Spaniard's match against Rosol, therefore, should have been a routine one. The 100th ranked player in the world ought not have troubled the 11-time Grand Slam champion too much and he didn't, initially.
"I'm sorry for Rafa, but today I was somewhere else and I'm really happy for this," Rosol said after the game, adding, "Still I cannot find the words. I still can't believe it. It's like [a] dream for me."
It certainly was and it started strongly. Rosol served two aces in his opening service game and consistently troubled Nadal throughout the first set. In fact, Rosol's stroke play was both powerful and consistent, something one normally associates with Nadal; the latter managed only 41 winners in the three hour and 18 minute slugfest, as against the former's 65.
The first set, although won by Nadal, was indicative of the difficult time to come. The conceding of a service break in the sixth game and being forced to save a set point early in that set clearly disappointed the Spaniard. Nadal did break back immediately and the two players were forced into a tie-break, which should have been an easier win that it was. It went close but at 6-5 to Nadal the set should been closed out. Rosol fought back to save and even hold two set points of his own before Nadal won 11-9.
"I am very, very disappointed," Nadal was quoted as saying, by the Telegraph, after the match, "I just was in the second round. That's painful, because always is tough to lose. But, well, that's sport. You win, you lose."
As difficult as that was, with a set behind him, Nadal suddenly seemed to get a case of the jitters. That booming first serve - 67 percent of which went in leading to 83 percent of points won - was clearly not helping and neither were returns of serve at up to 95mph. Rosol broke Nadal in the opening game of the first set and for the rest of that set, as much as he tried, the latter could do little about it. The second set remained on serve and Rosol claimed it 6-4, in a little over half an hour.
Nadal showed some improvement in the third, cutting down on unforced errors (only one, as opposed to the seven and six in the first two sets), improving first serve percentage to 74 percent from it being below 60 percent in sets one and two and matching Rosol with four aces. It was Rosol's groundstrokes and intensity of play that won the day, with 11 winners to Nadal's six. And in 34 minutes, Nadal found himself trailing a set to two.
The world number two fought back brilliantly in the fourth though. All of a sudden his serve seemed to find a rhythm and he won an impressive 86 percent of first serve points and made no errors. The difference was that serve. Rosol's completely deserted him, with percentage of first serves going in dropping from an average (so far) of 66 percent to 59 percent and that was enough. A crucial second break in the sixth game sealed the set for Nadal, 6-2, in 32 minutes.
The win should have boosted Nadal but falling light meant the roof needed to be closed in order for the lights to come on and that took 43 minutes and the edge of Nadal's momentum.
"My feeling was is completely new stadium with new roof, so the normal thing is cover the roof in 5, 10 minutes," a clearly upset Nadal, who admitted the decision to close the roof and the time it took, cost him the match, "That was my thought. So was big surprise for me when they told me they need 30 to 45 minutes. That's the only thing."
The fifth set, from promising a thrilling finish, was closed out in a rushed 23 minutes. If Nadal had not been shocked by the power of Rosol's groundstrokes up until then, he clearly was now. The Czech hammered in a massive seven aces, his first serve percentage went back up and once he got that break of serve, there was no looking back.
The Spaniard, after it was all over, was clearly a shell-shocked and beaten man but was quick to acknowledge both his opponent and the fact that he would return.
"I played a great fourth set. He came back [after the delay to close the roof] and played unbelievable in the fifth. The only thing I can do is go back home and rest, and I need and deserve it. I'm very, very disappointed [but] it's not a tragedy, it's only a tennis match," Nadal told BBC.
Meanwhile, Rosol will go on to play 27th seed Philipp Kohlschreiber of Germany in the third round and could, potentially, face Britain's Andy Murray in the quarter finals, if he can keep this form going.