As Roger Federer begins his Wimbledon campaign later today against Alexandr Dolgopolov, some of his Grand Slam final opponents have reflected on the challenging prospect of facing the Swiss ace.
While Federer is looking for his 19th Grand Slam title this month, his first Grand Slam final win came against Mark Philippoussis in the 2003 edition of Wimbledon.
Despite being the underdog, Federer was able to triumph beating the Australian in straight sets 7–6, 6–2, 7–6.
"He had beaten Pete Sampras at Wimbledon two years before, so it's not like he came out of nowhere," Philippoussis told The Times. "He won tournaments before that and he was one of the top players."
"Even though he was seeded No 4 at the time and I wasn't seeded, grass is my favourite surface. I believed in my game that I was going in as the favourite, but he played better than me on the day and took it to another level from there."
The 35-year-old's next Grand Slam triumph would come just six months later at the 2004 Australian Open where he met Russia's Marat Safin. Despite facing a former world number one, Federer was able to dispose of Safin in another straight set 7–6, 6–4, 6–2 win.
The victory meant not only did the 18-time Grand Slam winner win the first of five Australian Opens to come, but it also propelled him to the top of the world rankings, holding the number one spot for an unprecedented 237 consecutive weeks.
"I knew already that he was going to be the one," Safin reflected. "I had no doubt about it because I played against Sampras, [Andre] Agassi, a lot of players, and I realised he is the most complete of all."
"Agassi wasn't complete. He had the baseline [game] but he didn't have certain weapons to become a more complete player. Sampras also was incomplete, even though he was No 1 for a very long time.
"Roger could play on all surfaces, from the baseline, volley or chip and charge. He had a whole range of weapons in his arsenal. The rest of the players, [Pat] Rafter, [Pat] Cash, [Goran] Ivanisevic, [Lleyton] Hewitt, me...nobody was as complete as Roger."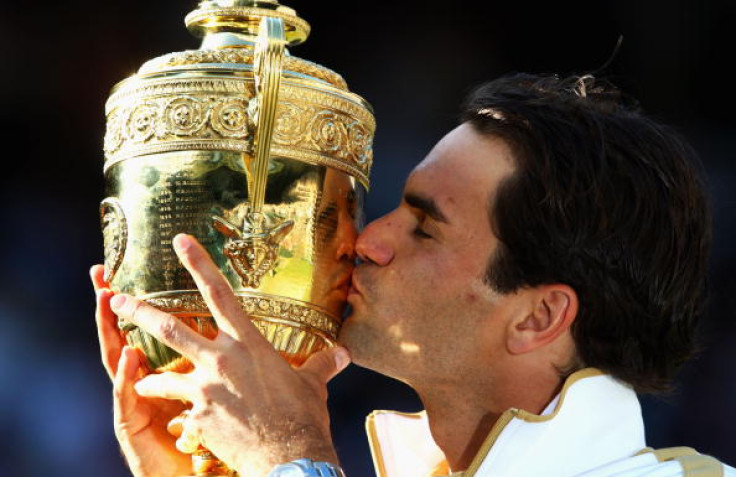 One player who holds the unlucky distinction of most losses to Federer in Grand Slam finals with four is Andy Roddick. Having lost a total of seven finals overall to the Basel native, the American spoke of how Federer was intimidating to play against.
"He was intimidating in his own way," explained Roddick, who lost three Wimbledon finals against Federer. "He would be laughing, joking and relaxed before a Wimbledon final. In those same moments, I could have chewed through a nail. I didn't understand it."
"I think my mental scar tissue manifested from him being better at tennis, and it being a terrible match-up for me. The stuff I did well naturally fitted into his skill set pretty nicely. I had to play outside of my comfort zone, and try to execute it perfectly for four hours. That was the most daunting part."
Another American in tennis great Andre Agassi only faced Federer in a Grand Slam final once during the 2005 US Open but maintains he is the best player he has played against.
"Roger is the best I've ever played against," Agassi claimed. "There's nowhere to go. Roger makes you play on the edge. You need to play the craziest tennis you've ever played."
At 35 years of age, Federer has already won four titles in 2017 and is gunning for his eighth overall Wimbledon title.
When asked how he was outlasting all his rivals from the past — who in some cases, are even younger than him such as Roddick — Safin only had to say one thing: "Roger was smart, and we were not so smart like him."