It seems Microsoft is bringing some of the key elements of Windows Phone 8.1 to its next major update for the desktop operating system.
The leaked build of Windows 9 technical preview unearths two more new features, Storage Sense and Wi-Fi Sense, which are expected to be a part of the next update.
WinFuture has shared a few screenshots from the technical preview bearing build number 9834, which appeared in a leak last week, showing the functions of Storage Sense. Clicking the Storage Sense option, as the screenshots suggests, will offer an overview of which application or content occupied the space of the device.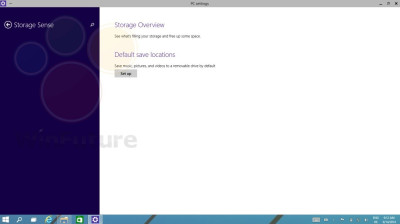 The Storage Sense in the screenshots shows the external storage of the system as a default location for music, pictures and videos. This will let users ensure that the multimedia content does not use internal memory of the device and is automatically stored in the memory card or the USB stick.
If the aforementioned information turns out to be true, then this feature will be really useful for tablets and laptops that offer limited built-in flash storage as multimedia content can be stored automatically in a microSD card.
Wi-Fi Sense
Another screenshot from the 9834 build shows registry entries which are believed to be for the Wi-Fi Sense. This again indicates Windows 9 will support the Wi-Fi Sense feature, already available in Windows Phone 8.1.
Wi-Fi Sense functions
Wi-Fi Sense connects to Wi-Fi networks around the user and does the following services for Internet access:
Automatically connect to open Wi-Fi networks it knows about by crowdsourcing networks that other Windows Phone users have connected to.
Let you exchange Wi-Fi network access with your Facebook friends, Outlook and Skype contacts to give and get Internet access without seeing each other's Wi-Fi network passwords.