The recently leaked build version of Windows Threshold still contains a lot more goodies for users. It is now the turn of the notification center.
The Windows Phone 8.1 update, released in July this year, brings the notification center for users. When Windows Phone users have got the feature how can desktop users be left behind?
Microsoft has plans for desktop users as well. There have been several rumours revealing the existence of the notification center in the next Windows update.
WinFuture has now shared a video (check the video below) that shows the Windows 9 notification center in action. The notification center, as seen in the video, displays all the incoming messages including notifications from Windows Store apps, desktop programmes and from the operating system.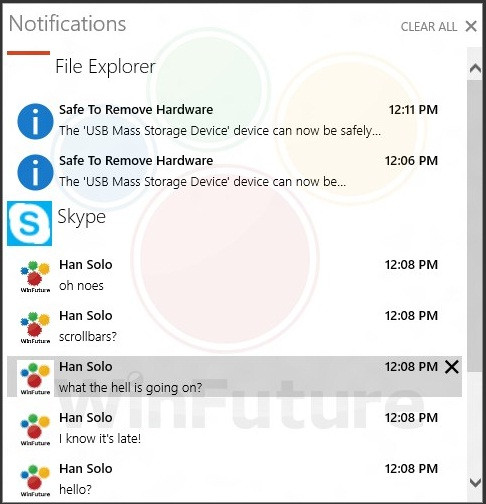 The notification center is located at the right side of the task bar and displays all the notifications in a scrollable list. Besides, all the alerts are displayed with the application's name as well as a summary of the notification. For instance, the video shows the text sent by a user in Skype, explains Neowin.
The notification center also shows the time an app is being sent. It allows users to delete all the messages at once by clicking 'Clear All' and also provides the option to delete an individual entry. As the video reveals, the alerts are segregated by app.
<center>