Microsoft has confirmed the lifecycle schedule for its latest Windows Phone 8.1 update.
As the official Microsoft support page suggests, the Windows Phone 8.1's lifecycle will begin on 24 June and after a period of three years the mainstream support will end on 11 July, 2017.
The Microsoft Support Lifecycle (MSL) policy standardises the company's product support policies for business and developer products and for consumer, hardware and multimedia products.
Along with the lifecycle start and support end dates, the support page confirms that Microsoft will make the Windows Phone 8.1 updates available including security enhancements for 36 months.
Microsoft will make updates available for the Operating System, including security updates, for a minimum of 36 months after the lifecycle start date. These updates will be incremental, with each update built on the update that preceded it. Customers need to install each update in order to remain supported. The distribution of these incremental updates may be controlled by the mobile operator or the phone manufacturer from which you purchased your phone, and installation will require that your phone have any prior updates. Update availability will also vary by country, region, and hardware capabilities.
As for its predecessors, Microsoft will end the mainstream support for the Windows Phone 7.8 after a few months, which is on 9 September this year, whereas there is no mention of support end date for the Windows Phone 8.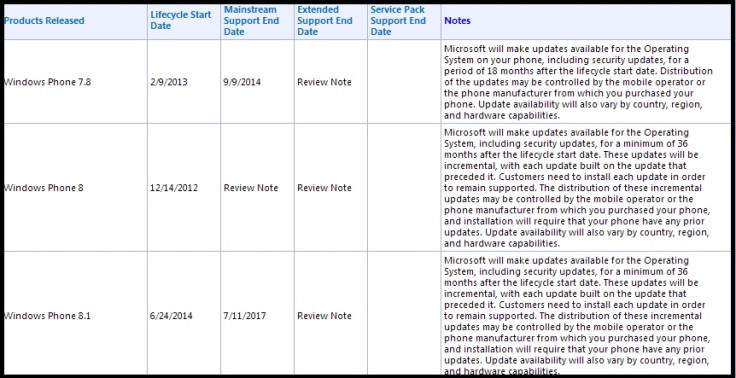 Last year, Microsoft announced that it would extend the support lifecycle for the Windows Phone 8 from 18 months to 36 months. Beginning with the Windows Phone 8, the updates including security fixes will be available for 36 months. But the mainstream support for the Windows Phone 7.8 will end after 18 months, notes WPCentral.
24 June for the Windows Phone 8.1 is the date when its lifecycle starts but not the official roll-out of the update.