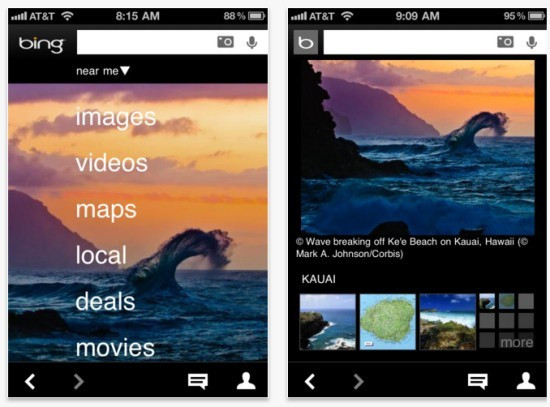 Microsoft's latest attempt to re-inject life into its Windows Phone OS and Bing search engine has suffered a minor PR hiccup, with it emerging that the company's new Bing app will launch on the competing Android and iOS operating systems before Microsoft's own Windows Phone 7.
News of the new Bing app's release schedule broke Wednesday via a blog post on Microsoft's Bing Community page.
"We're working to release the same consistent experience for RIM and Windows Phone 7 devices in the future, and will share more details as they become available," read the blog post's end.
The decision to release the app on Windows Phone's chief competitors first has since been taken as a pragmatic one by Microsoft.
Since its launch Bing has struggled to compete with Google and the decision to release it on the Apple iOS and Google Android platforms first is likely a ploy by Microsoft to increase the service's audience as fast as possible.
The app itself houses several new features, including the addition of real-time transit feeds, a revamped maps module and a new deals service.