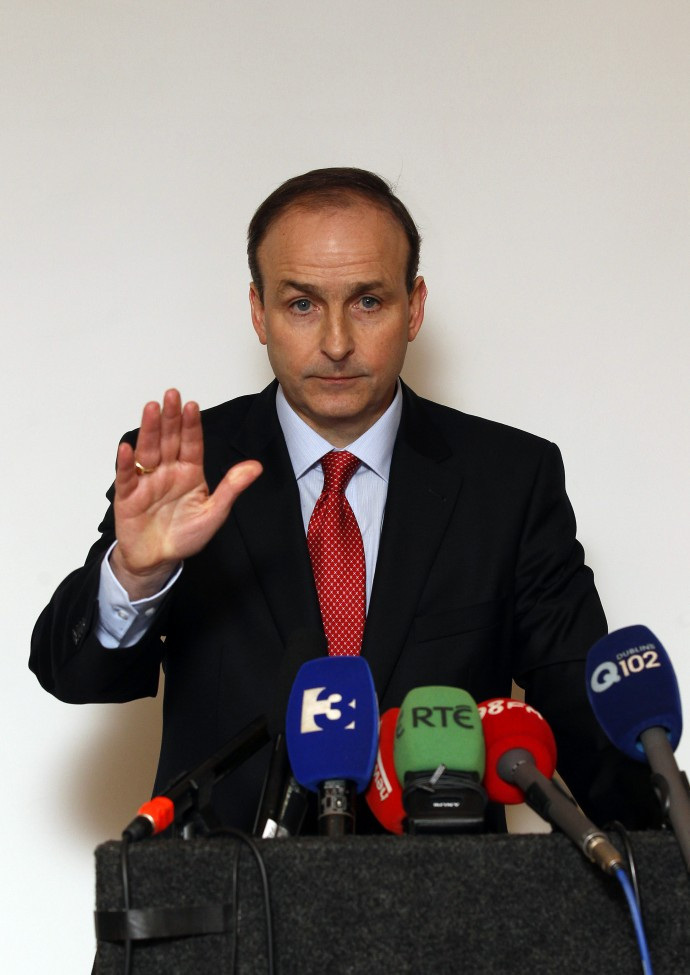 There was little good news for Fianna Fáil this past weekend with a general election expected to be held on 25 February and no change in the prediction that the current ruling party are going to lose badly. However, with a new party leader, Micheál Martin, Fianna Fáil's support does appear to have stabilised at 16 per cent. This was found to be the case in two opinion polls, one conducted by Red Co for the Sunday Business Post and another by MillwardBrown Lansdowne for the Sunday Independent - both Irish newspapers.
A far cry from the 44 per cent that Fianna Fáil polled in the 2007 General Election, it is an indication of just how much ground Mr Martin will need to make up if he is ever to have a chance of becoming Taoiseach/Prime Minister.
Harold Wilson is attributed as being the first politician to comment that: "A week is a long time in politics" back in 1964 and no doubt Mr Martin will be hoping that with over three weeks, he will be able to convince enough of the electorate that his party has a credible strategy to revive Ireland's ailing economy and so hold on to, maybe 20 per cent of the vote.
Given the current circumstances, if Fianna Fáil did get a 20 per cent share in the general election it would demonstrate that Harold Wilson made a valid point. An editorial in the Irish Independent on 27 January 2011, reminded its readership that: "It (Fianna Fáil) presided over - and to a large degree caused - the economic collapse. It drew up the four-year recovery plan and signed the rescue package with the EU/IMF."
The editorial goes on to say that although Mr Martin never held an economic ministry: "As well as re-organising the party, Mr Martin needs to think deeply about why Fianna Fáil led the country to the brink of bankruptcy twice in twenty years."
Even if Fianna Fáil achieves 20 per cent of the vote, it would still probably be in third place behind Labour which polled 21 per cent in the Red Co poll and 24 per cent in the MillwardBrown Lansdowne poll.
Fine Gael's Enda Kenny is most likely to succeed as the new Taioseach as the party won a clear margin in both polls with 33 per cent support.
Sinn Féin got 13 per cent and 10 per cent respectively in the polls, though the main parties (above mentioned) have ruled out ever entering into a coalition with Sinn Féin. Looking at Sinn Féin's party literature, the feelings are mutual as they accuse Fianna Fáil, Fine Gael and Labour of "singing from the same hymn sheet." Sinn Féin's assessment of the Green Party, until last Sunday, 23 January 2011 the junior member of the Government coalition, is: "Going - going - gone".
Unfortunately for the Green Party, Sinn Féin's reckoning is likely to be an accurate prediction in the coming election. The election after all is about the economy or more accurately, Ireland's economic woes, with scant means of solving these and a great deal of blaming going on. It is not about the means by which Ireland achieves its energy output and, needless to say, they were in a formal coalition partnership with a now unpopular Government.
Yet Sinn Féin's own election promise to "reverse Government cuts and introduce a new Budget - (Gerry) Adams", is equally a non-starter and there is nothing by way of real detail on Sinn Féin's proposed Budget or how it would approach the EU/ECB/IMF
A feature of Irish politics, only seen but rarely in the UK, is the candidate standing as an "Independent". In Ireland, such parliamentary members come from both the left and right of the political spectrum but refuse to take the "whip" of any of the main parties. Both Red Co and MillwardBrown Lansdowne polls show that candidates standing as Independents can expect to get about 15 per cent of the vote. If there is a hung parliament, such members could exercise an influence out of all proportion to their support or constituency.
It is expected that the General Election will result in a Fine Gael/Labour coalition. It was reported very recently that Fine Gael could conceivably get sufficient seats to form a single-party government. There will be little time to enjoy electoral success in a land racked by angst. A report in the Sunday Independent on 30 January 2011 found that 55 per cent of 25-34 year olds fear they will lose their jobs and a further 37 per cent "are living in real fear of losing their homes." For those people, who wins the election will matter little!