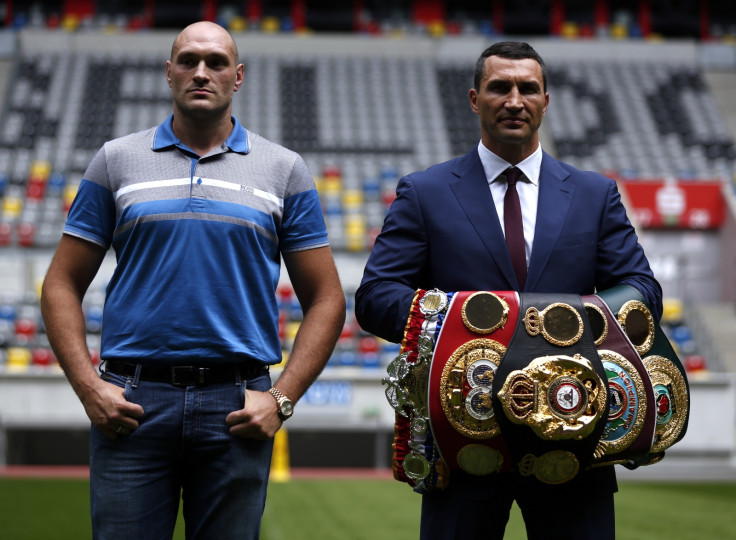 Tyson Fury's upcoming world heavyweight title fight against Wladimir Klitschko has been postponed after the reigning champion sustained an injury in training. The two men were due to meet for the WBA (Super), IBF, WBO and IBO championship belts at the Espirit Arena in Dusseldorf on 24 October, but a tear to the tendon in Klitschko's left calf will prevent him from making the date.
German daily Bild first reported the news, with the 39-year-old, quoted as saying: "I am of course incredibly sorry - for my fans but also for my opponent Tyson Fury."
Klitschko's manager Bernd Bonte made it clear that his client was not pulling out of the bout altogether and is eager to reschedule proceedings as soon as possible in the same city. He added: "Next week we will make it known when the fight will be restaged. We will definitely remain in Dusseldorf."
Fury has since confirmed the news himself, taking to Twitter to inform his 257,000 followers: "Well it's official @Klitschko has pull out of the fight with an injury in his leg, it's a bit funny as I predicted this would happen!!! Don't feel sorry for me I'll be ok, I'm sorry for the fans again as they are the biggest losers here. Flights & hotels travel, sorry guys (sic)."
The announcement comes just two days after the respective teams held their latest pre-fight press conference in London, where the eccentric Fury made headlines by entering the room dressed as Batman before proceeding to leap over the table and fight a member of his entourage who was playing the role of The Joker.
UPDATE - Klitschko has now released a video statement via his official Instagram account. He said: "Dear fans, I'm sorry to inform you that I have to postpone my fight against Tyson Fury due to a minor injury. I'm working hard on the rescheduling of the fight and as soon as I know, I will keep you posted about the new date."