Tyson Fury has zinged Wladimir Klitschko ahead of their heavyweight title clash on 24 October, promising that "this Klit is getting licked on 24 October".
The 26-year-old Irish Traveller, who currently holds a 24-0-0 record, will face the Ukrainian world champion at the Dusseldorf Esprit Arena in Germany.
Speaking during a press conference at the stadium, Fury claimed that despite not being beaten for 11 years, Klitschko was an "old man" and boasted that the rest of Europe wanted to see him lose.
"I am not interested in all the titles and all them belts you have got on there. I am interested in breaking your face in. That is what I am interested in. You are boring. I want to rid you out of the heavyweight division. Your 'jab and grab' style. Surely, all of Europe wants to see you get beaten. And all of Europe and the rest of the world will see you get beaten. You have about as much charisma as my underpants. Zero. None," he said.
"I look at you and I don't fear. I see a man. An old man who is getting knocked out. You have a chin like a piece of glass. I want to hit it and it is going to explode like that glass against a wall. What am I to be afraid of? A man who has had 25 title defences against bums. If you really want to go into the boxing let's talk heavyweights. Let's talk about all your opponents. Selected opponents by good management over the years. You have got a big fan base in Germany and a big fan base in Ukraine probably, or wherever you are from," he added.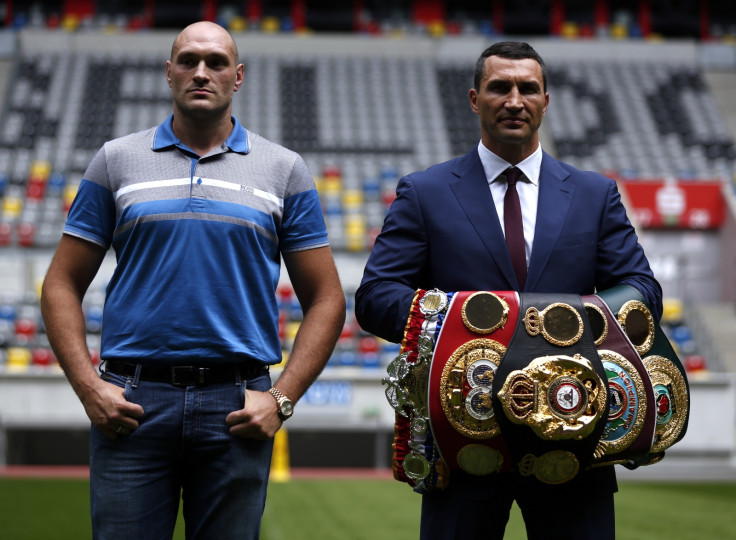 Klitschko, nicknamed Dr Steelhammer, said he was sure Fury would fight hard for the title.
"I believe that Tyson Fury really means what he is talking about. He is not coming here just to be present and to be on the canvas. No, he will come here to win the championship fight," he said.
"I think you are going to face the toughest fight of your life. I think it won't be simple for you and I believe also that I am going to face one of the toughest opponents. Just your size and your standings, switching from southpaw to regular, is going to be challenging as well. But I will be ready. That I promise," he added.
Klitschko has not lost since 2004 and faces the 19th defence of his second reign as world champion, six months on from his last bout against Bryant Jennings.
The Ukrainian has lost just three of his 67 professional fights and has Briton David Haye on his list of victims, after his unanimous points victory in Hamburg in July 2012.