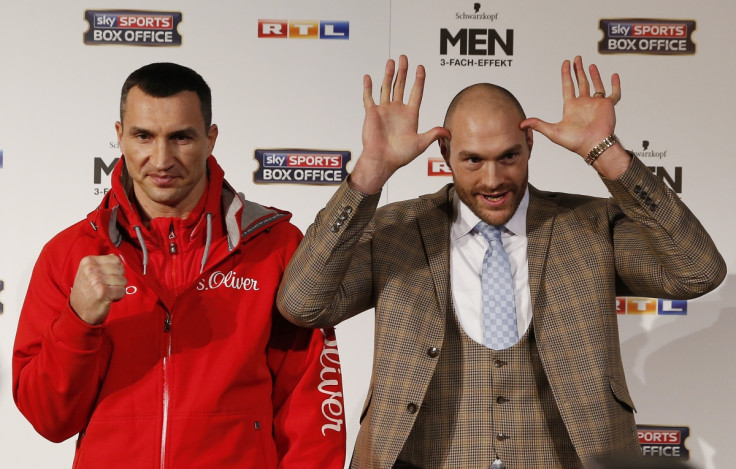 Heavyweight champion Wladimir Klitschko will defend his WBO, IBF and WBA world titles against Tyson Fury in Dusseldorf at the ESPIRIT Arena on Saturday 28 November.
How to watch
Klitschko vs Fury is available live on Sky Sports Box Office with programming to begin at 7pm [GMT]. The fight is scheduled to get underway around 10pm with the ring walk starting five minutes before that.
Overview
Tyson Fury says he is ready to shock the world on Saturday night. The brash, antagonistic firebrand of the heavyweight division has told anyone who will listen how he intends to bring an end to Wladimir Klitschko's 11-year dominance. It has been compelling viewing watching the two polar opposites verbally spar in the weeks leading up to their showdown. From showing up at a press conference dressed up as Batman to serenading his opponent with a rendition of "Wind Beneath My Wings", 27-year-old Fury has done the best to make it all about him. It is a method he excels in. Klitschko meanwhile has remained his composed, calculated self, dropping no hints as to whether Fury's histrionics has had any effect on him. We would wager it hasn't.
The heavyweight division has long needed some life breathed back into it. Anthony Joshua's brutal rise has provided a compelling glimpse into the future but, with the exception of Deontay Wilder, Fury and Klitschko are the only two contenders at the summit.
Klitschko's almost robotic stranglehold of the ring has seen him hold onto his titles virtually untroubled. David Haye thought his speed and power could topple the Ukrainian, but he struggled to land a meaningful glove on him. Kubrat Pulev attempted to open things up a bit in order to breach Klitschko's defence, but was floored in the first round for his trouble before he was finished off for good in the fifth.
However, Fury, 12 years his opponent's junior, calls himself Klitschko's "nightmare". The Manchester-born giant believes his versatility will pose the biggest threat on the night to the Ukrainian's crown and rightfully so; Fury's ability to interchange between orthodox and southpaw could be a telling factor. The only problem is, his opponent has seen it all before.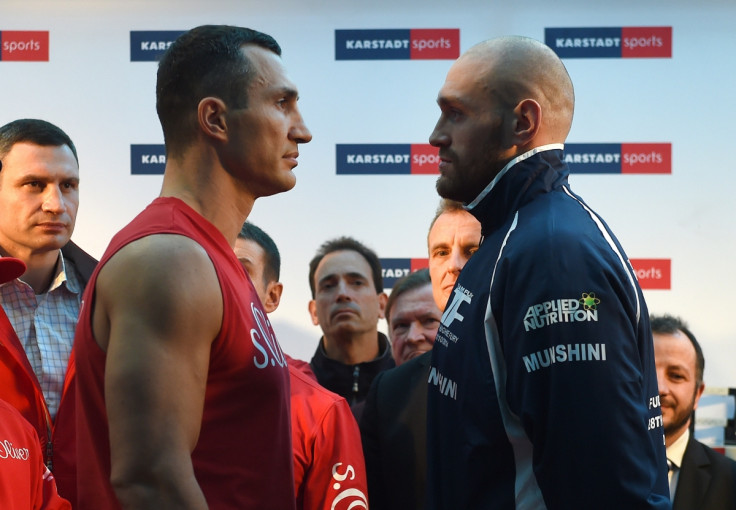 What they have said
Wladimir Klitschko: "I'm expecting anything. He's a very flexible fighter - sometimes he fights in southpaw and sometimes he fights regular. Sometimes he makes funny faces during the fight and a lot more, he talks. So I'm prepared for anything and I don't think Tyson himself knows what he's going to do.
"People have studied me for many years and I haven't changed so there are a lot of things to pull out but they're always the same. I wouldn't stay here in a wouldn't do the job professionally.
"A clear victory by knockout is better than on points because then there would be other questions we don't want to hear." [via Sky Sports News]
Tyson Fury: "I've come here to do a demolition job on Klitschko and that's what I intend to do. It's strictly business. It's a fight and may the best man win. No hard feelings after the event - turn up to the press conference and explain why he lost. Don't make any excuses.
"I think it'll pan out with me knocking him out in Germany. That's all I can tell you. I don't intend to leave it to anyone else - my destiny is in these two hands. "I'm a 4-1 underdog but Cassius Clay was a big underdog against Sonny Liston and so was Leon Spinks against Muhammad Ali. Buster Douglas against Mike Tyson. Underdogs win.
"100% I'm going to become heavyweight champion by knockout. I thank everyone coming out to support me. I've had lots of well-wishers and thanks a lot." [via Sky Sports News]
Records
Wladimir Klitschko – 64 wins (53 knockouts), 3 losses
(W) Bryant Jennings – unanimous decision – April 2015
(W) Kubrat Pulev – knockout – November 2014
(W) Alex Leapai – technical knockout – April 2014
Tyson Fury – 24 wins (18 knockouts), 0 losses
(W) Christian Hammer – referee technical decision – February 2015
(W) Dereck Chisora – referee technical decision – November 2014
(W) Joey Abell – technical knockout – February 2014
Prediction
Fury's size and versatility should ensure Klitschko is given a tough examination, but it will not be enough. The champion's power is still enough to dispatch anyone, which he will do when he inevitably draws his opponent out. Late stoppage victory for Wladimir Klitschko.