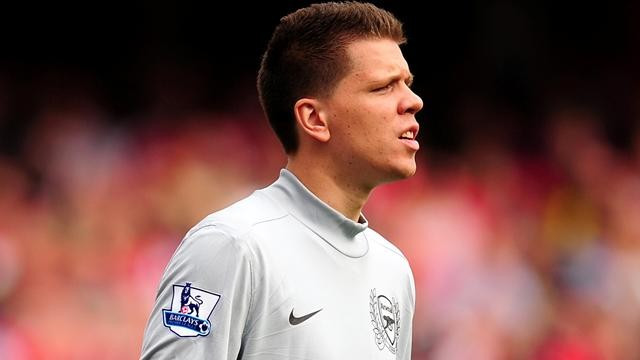 Wojciech Szczesny has made his feelings clear over who he thinks is the better side out of Chelsea and Tottenham, with the Arsenal keeper claiming Spurs don't have the quality to finish in the top four this season.
Szczesny made a huge contribution to the Gunners' 1-0 win over QPR at the weekend to keep the side in a favourable position in the top four.
Arsenal are currently fourth, and Chelsea face Tottenham in the sides' games in hand as the battle for Champions League qualifications continues on the tightest of margins. And while Spurs can overtake their north London rivals with a win over the Blues, Szczesny thinks this is highly unlikely.
"If you look at Chelsea's fixtures, they have Tottenham and Everton left and they won't be easy games," he told Sky Sports. "And Tottenham do not have enough quality, so there you go...
"I would settle for another two 1-0 wins in the rest of the season and a place in the top three.
"Even if we have games like the QPR one, it might have been boring at times, but we couldn't care less at this time. We just got the three points.
"Hopefully it will be back to the old days and hopefully we will get back to winning trophies as well."
Szczesny's save towards the end of the game against QPR was effectively a game-saver for Arsenal, and has kept them well and truly in the fight for a top four spot.
But the Poland international refused to take the credit for his side's three points, saying: "I don't think it was a great save. I am not getting too excited, it's about the team's defending.
"It's not just the two centre-backs, it's not just the goalkeeper, it's the whole team. A lot of credit has to go to (Arsenal assistant) Steve Bould for his work."