A "bright and sociable" woman was stabbed to death when she tried to leave her "violent" and possessive boyfriend.
Joanna Trojniak, 29, was in a relationship with Pawel Sroka for six years, but confided in friends about leaving him.
However, she was fearful that if she left him, Sroka would track her down and kill her.
When Trojniak finally built the courage to leave and asked to have her mail forwarded to a new address, Sroka found a Post Office confirmation letter in their home in Croydon, south London, on 23 March.
He stabbed her six times, leaving her with wounds on her face and chest and one on her hand as she tried to protect herself.
He then called 999 to say Trojniak had been attacked in the house the two Polish nationals shared.
When police and ambulance arrived, Sroka was found with two self-inflicted stab wounds in his chest. In his defence, Sroka said his victim was abusive towards him and tried to pull a knife on him first.
David Jeremy QC, prosecuting, said: "The defendant attacked her and stabbed her to death with a kitchen knife in the living room of their home.
"He then called 999 and drove off in his car – not before he had stabbed himself in the chest – leaving Miss Trojniak to die.
"The defendant was seen by local residents in his car in a nearby street crying out for help.
"Police and paramedics arrived and took him to hospital and ensuring that he survived."
According to the Daily Mail he added: "About a week before she had a discussion with her manager at work. She told him of her plans to run away.
"She told him that she had tried to break up with the defendant in the past but he had locked her in a room and become aggressive."
Jeremy explained that when her colleague asked why she had not already left Sroka, she replied: "Are you crazy? He will kill me".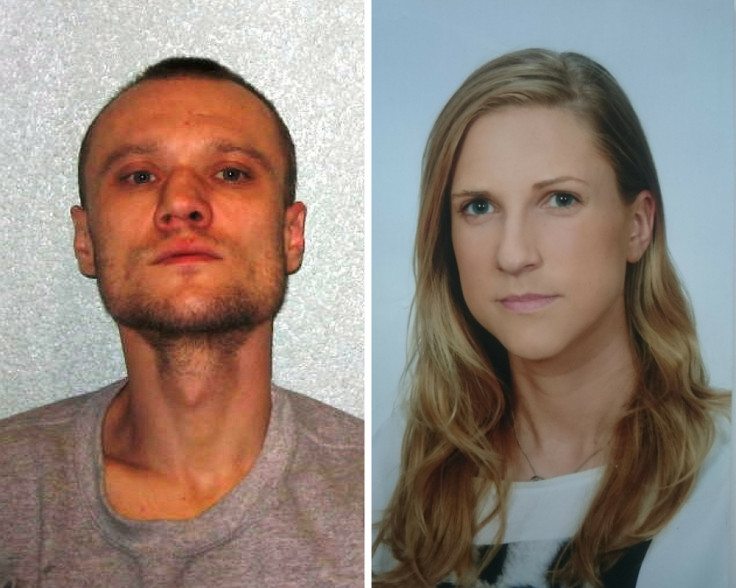 Sroka, 34, denied murder but admitted manslaughter. He was unanimously convicted of murder by a jury of seven men and five women following an Old Bailey retrial on Thursday (6 April).
He will be sentenced in the same court on Friday (7 April).
In a statement, inspecting officer Detective Chief Inspector Graeme Gwyn said: "Pawel Sroka is a violent and controlling man who flew into a murderous rage when he realised Joanna wanted to end their relationship.
"Due to Sroka's silence when being interviewed by police, we will never know the exact chain of events of that evening and what sparked the attack which resulted in Joanna's death.
"What is clear is that from the testimony of her friends and colleagues, Joanna was a bright and sociable person who did not deserve to have her life ended in such brutal circumstances."