A Ukip rally has descended into chaos after two women began fighting in the street outside a Hartlepool pub where the leader of the party, Paul Nuttall, was due to speak.
The two women came to blows at a planned mini-rally of Ukip supporters where Nuttall announced he will contest the Lincolnshire seat of Boston and Skegness in the general election, on 8 June.
The Ukip leader, who was actually at another pub at the time of the fracas, was visiting the town ahead of a Hartlepool Council by-election on 4 May.
And as the locals prepared to greet Nuttall two women were seen rolling around on the floor, grabbing and kicking each other.
The two women were left covered in a red drink with reports suggesting that one was a Ukip supporter with the other a Remainer.
Dramatic pictures of the pair were taken with one of the women dropping her drink and her heart-shaped glasses before holding a shoe menacingly at the other woman.
A man tried to separate the two women but also ended up on the floor with the sparring couple.
Footage posted on Twitter showed the two women fighting on the floor with one of the women shouting at the other saying: "Look at what you've done, I'm 62".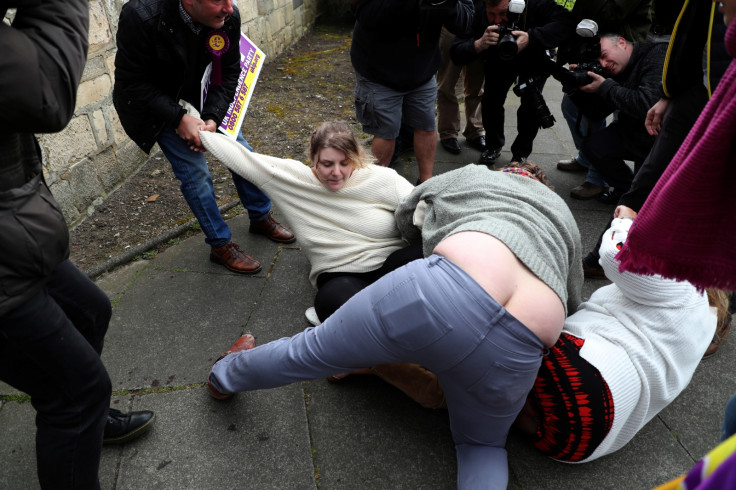 Cleveland Police officers attended the scene and a spokesman confirmed that two women, aged 62 and 28, were arrested for assault, with inquiries ongoing.
BBC reporter Richard Moss said the fight broke out outside the pub where the leader was due to speak to supporters.
Moss shared a video of the altercation, saying: "Just to add to the chaos as we wait for @paulnuttalukip a fight has broken out between two women in Hartlepool. Neither from Ukip."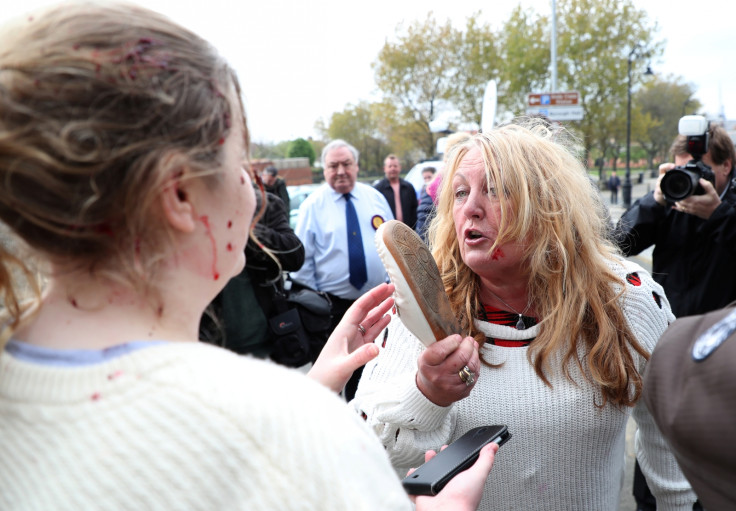 Nuttall finished the afternoon by knocking on doors and meeting voters in the street in the Headland area of the town, in County Durham.
The Ukip leader will run for the Boston and Skegness seat after failing in a bid to become the representative for Stoke-on-Trent Central in February earlier this year.
Ukip announced their so-called "integration policy" this week which included a ban on wearing face coverings in public places and girls undergoing compulsory medical checks of their genitals in schools if they are classed as being at high risk of suffering female genital mutilation.