As the England team prepares for the Women's World Cup opener against France, the Football Association has launched a campaign to shatter lingering preconceptions about women's football.
The We Can Play campaign aims to increase the number of girls aged between seven and 11 playing football by overcoming the barriers which stand in the way of participation. It hopes not only to encourage more girls to believe football is for them to enjoy, but also to create the next generation of Lionesses to represent England at future World Cup tournaments.
Despite its status as the largest team sport for girls and women in the country, gender stereotyping continues to hold back greater participation in football. Even searching the term "football girls" generates a series of sexual images and videos, contributing further to perpetuation of a negatively distorted image on the women's game.
"From our perspective we have come a long way," says Russell James, a spokesperson for the FA's campaign. "There will be over a billion people globally watching the England women's game tonight and the women's football league is growing and growing, so there are some really positive trends."
"I think one of the major issues is challenging some of the broader perspectives that are out there. We conducted some research that found parents and girls thought football was less suitable for girls than boys and it got us thinking – we are investing more into women's football, but there are still perceptions at a ground level that need to be changed."
Research from the FA shows that half of girls surveyed didn't think football was a game for them. It also showed one in four stopped playing due to peer pressure and parents are less likely to encourage their daughters to play, believing it is a sport for sons.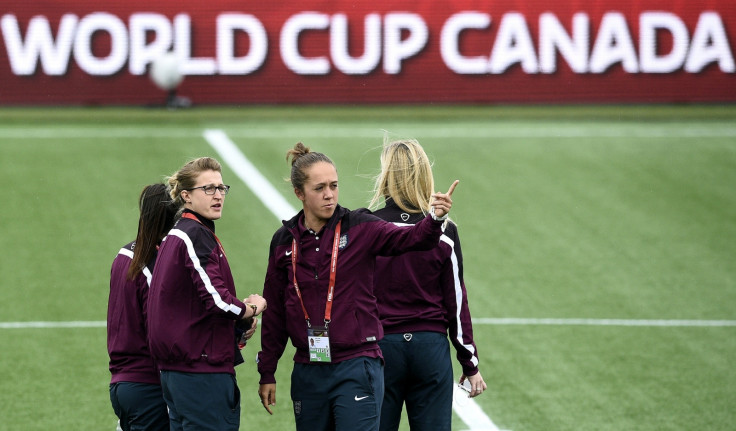 A key element of the campaign is to drive participation through a more accepting and inspirational environment for girls to learn about football. Beyond encouraging girls, the FA is also hoping to spark wider debate about perceptions of women's football. Showcasing positive female role models while tackling misogyny in the football industry is essential.
From a BBC radio DJ who wrote off women's football as "rubbish" to the misogynistic social media comments when EA revealed female players would feature in the FIFA 16 game, sexism continues to pervade the beautiful game.
And misogyny isn't just confined to the pitch. A survey by the networking organisation for women employed in the football industry, Women in Football, found more than 66% of women working in the industry had witnessed sexism in the workplace. The overwhelming majority – 89% - had not reported it, believing it would not be taken seriously. With these attitudes in mind, is women's football still perceived by some as a joke?
"Yes absolutely – but I don't agree," James says. "There is a lot to be done, which is why we came up with the campaign in the first place. You have to think of it like this – men's football has been around for over 150 years, while women's football has been around for 20 or 30 years. It's a lot more premature than men's football."
Times are changing, however, he adds. "If you spend time with coaches, players and perhaps most importantly, fans, there is a real tide of change in opinion. The fact that people are considering women's football – even if their view is somewhat sceptical – we are putting it on the agenda."
"The FA is encouraging all our England fans to watch the game tonight," James says. "Only by watching and sampling women's football can you have a truly educated opinion."
Social change takes time, he adds, but the campaign is a foundation for better things to come. "We are not kidding ourselves that perceptions will change overnight. There are other key moments in the next 12 months that will put women in the spotlight, such as the England team and having the FA cup game for the first time at Wembley," he says.
"Change does take time, but it's important to tackle not only the functional barrier to women's football but also emotion side as well. Everybody has a role in this, to understand that we are a bit behind the times. The biggest sport in this country needs to catch up, so we all have a part to play."