Two of London's most prominent war memorials have been defaced with the word Islam, police said.
Officers were called at around 5am to the RAF Bomber Command memorial in Green Park and the Animals in War memorial on Park Lane, a few hundred yards away.
Both memorials had been spraypainted, and the legend "They had no choice" inscribed on the Animals memorial was crossed out in red paint.
The graffiti, which included the word Islam in both instances, was later covered up.
A picture published on Twitter shows the word 'Islam' daubed on the Animals in War memorial before it was covered.
The Metropolitan police has released a statement indicating that Royal Parks officers are investigating, in conjunction with colleagues from Westminster police.
No arrests have yet been made. It is unclear whether the vandalism was perpetrated by Muslim protesters - or right-wing groups seeking to inflame anti-Muslim sentiment.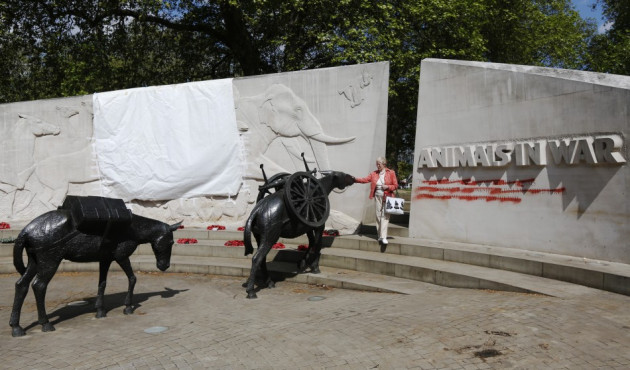 The vandalism took place hours before the English Defence League converged on central London for a protest march, drawing thousands of supporters from across the country.
Douglas Radcliffe, secretary of the Bomber Command Association, told ITV News: "I'm very disturbed of course, I can't relate to who's done it. If we knew it was going to happen we would have taken some reserve."
Radcliffe has pledged to stand at the Bomber Command memorial until the perpetrators of the vandalism are identified.
Tensions inflamed
Tensions have been running high across Britain since soldier Lee Rigby was beheaded in Woolwich, allegedly by a pair of Woolwich terrorists.
Hours after the murder, two men were arrested for concurrent attacks on mosques in Gillingham, Kent and Braintree, Essex.
A mosque was allegedly firebombed in Grimsby, Yorkshire over the bank holiday weekend, while arrests were made following a demonstration by EDL supporters in Walsall, West Midlands.
The EDL held a demonstration in Woolwich, close to the spot where Rigby was killed, on the night of the murder, and have since held a demonstration in Newcastle.