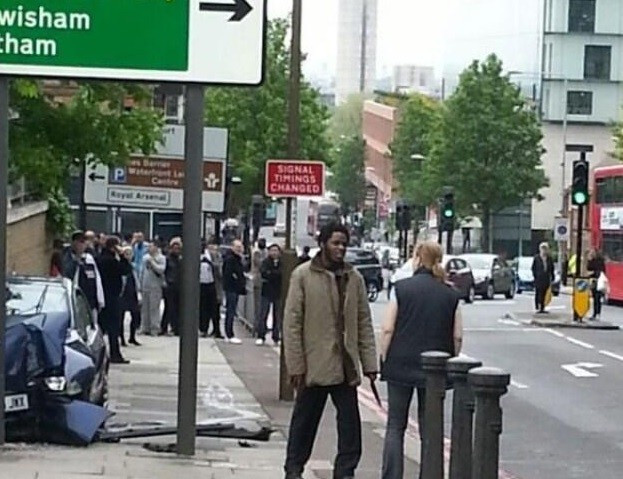 Pictures of a second man holding a knife at the scene in Woolwich where a man, believed to be a soldier, was butchered have emerged.
The picture shows a man in a beige jacket holding what seems to be a large knife. He is standing next to the wreckage of a blue car the attackers drove into their victim before crashing into a direction sign support pillar.
The man holding the knife appears to be speaking to a woman. Assailants had asked witnesses to take photographs of them, it had been claimed.
Earlier, ITV released images of a man wielding a meat cleaver and knife. Footage supplied to the TV channel showed the man making political statements to the camera.
In a London accent, the man said: "We swear by almighty Allah we will never stop fighting you. They don't care about you.
"I apologise that women had to witness this but in our land women have to see the same,"
He also called for the UK government to be "removed". The BBC's Nick Robinson said witnesses had reported the two men filming one another and that they had shouted "Allah Akhbar [God is great]".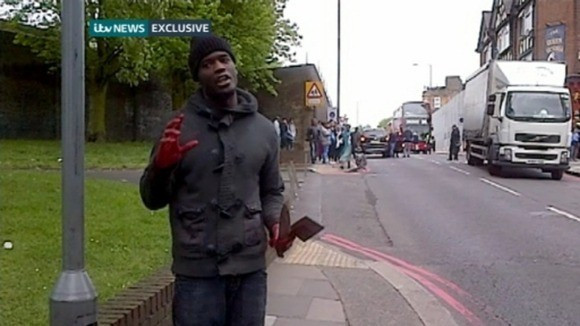 It is not known if either of the men pictured are involved in the attack.
The victim, thought to be a soldier, was wearing a Help for Heroes t-shirt. A statement from the charity said: "Help for Heroes is appalled to hear that a man, believed to be a serving soldier, has been brutally murdered in Woolwich today. We are desperately saddened to hear of this sickening attack and offer our thoughts and prayers to his family, colleagues and friends."
A Cobra meeting chaired by home secretary Theresa May concluded that it was "overwhelmingly likely" that it was a terrorist incident.
They have since upped security at the nearby Woolwich Barracks, where the victim is believed to have been serving.
The EDL's Tommy Robinson has urged supporters to go to Woolwich this evening, saying: "When the f**k is this country and its people going to take the threat political Islam poses serious!"
The Muslim Council of Britain has condemned the attack saying it was a "truly barbaric act that has no basis in Islam".
"Eye-witnesses suggest that the murderers made Islamic slogans during their heinous action and were thus motivated by their Islamic faith.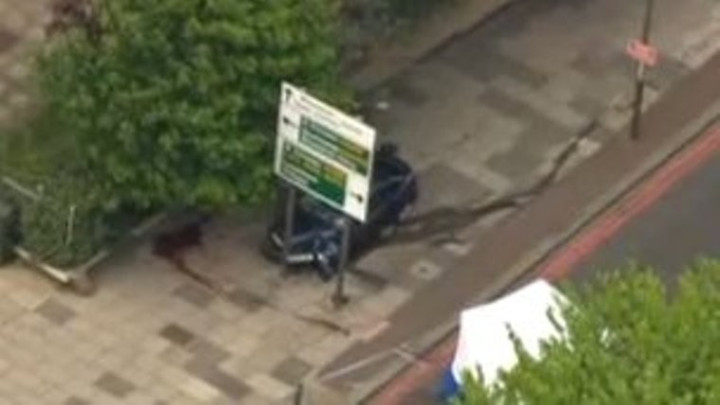 "This is a truly barbaric act that has no basis in Islam and we condemn this unreservedly. Our thoughts are with the victim and his family.
"This action will no doubt heighten tensions on the streets of the United Kingdom. We call on all our communities, Muslim and non-Muslim, to come together in solidarity to ensure the forces of hatred do not prevail. It is important we allow our police authorities to do their job without speculation.
"We also urge the utmost vigilance and ask the police authorities to calm tensions."
There are currently road blocks in place at the scene in Woolwich and the Met said police presence would continue throughout this evening.
READ:
Woolwich 'Beheading': ITV Posts Video of Man with Meat Cleaver and Bloody Hands at Scene [VIDEO]
Woolwich Machete Attack: Chilling Echoes of 2007 Islamist Plot to Behead British Soldier
Islamic Terror Link to Woolwich John Wilson Street 'Beheading' of Soldier
Woolwich John Wilson Street 'Beheading': Shock Eyewitness Accounts
Woolwich John Wilson Street 'Beheading': Shock Eyewitness Accounts