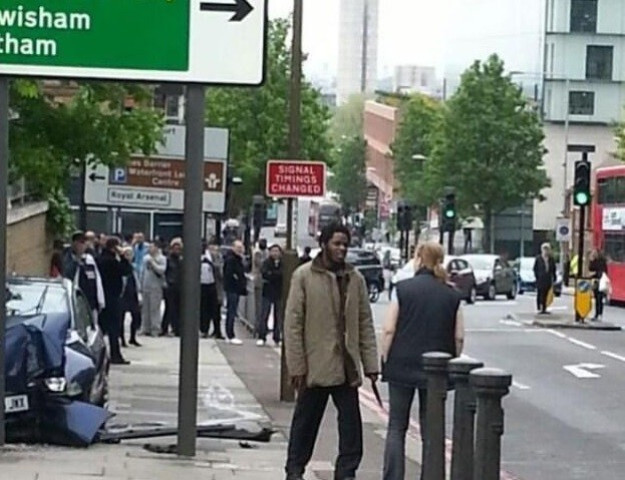 A cub scout leader jumped off her bus to heroically confront the men who hacked a British soldier to death in Woolwich this afternoon.
Ingrid Loyau-Kennett, a mother of two, appealed to one the terrorists for calm as he held his bloodied knife - and was told "we want to start a war in London tonight."
Loyau-Kennett, 48, also attempted to take the pulse of the soldier as he lay on the ground after the horrific attack.
She told The Daily Telegraph that she was travelling through Woolwich at the time of the incident and got off her bus as she saw the attack unfold.
"Being a cub leader I have my first aid so when I saw this guy on the floor I thought it was an accident. Then I saw the guy was dead and I could not feel any pulse." Loyau-Kennett said.
"Then, when I went up, there was this black guy with a revolver and a kitchen knife, he had what looked like butcher's tools and he had a little axe, to cut the bones, and two large knives. He said 'move off the body'."
Loyau-Kennett revealed to the Telegraph that the attacker was "covered with blood", and she attempted to placate him despite the obvious danger of the situation.
"I thought I had better start talking to him before he starts attacking somebody else. I thought, these people usually have a message so I said 'what do you want?'
"I asked him if he did it and he said 'yes,' and I said, 'why?' And he said because he [the victim] has killed Muslim people in Muslim countries, he said he was a British soldier. I said really and he said 'I killed him because he killed Muslims and I am fed up with people killing Muslims in Afghanistan, they have nothing to do there."
Loyau-Kennett told the Telegraph the attacker was not under the influence of drugs or alcohol. "He was in full control of his decisions and ready to [do] everything he wanted to do.
"I said 'right now it is only you versus many people, you are going to lose, what would you like to do?' and he said 'I would like to stay and fight.'"
When the man wandered away to talk to another by-stander, Loyau-Kennett went to talk to his fellow attacker, who was "much shier."
"I said 'well, what about you? Would you like to give me what you have in your hands?' I did not want to say weapons but I thought it was better having them aimed on one person like me rather than everybody there, children were starting to leave school as well."
MPs subsequently hailed Loyau-Kennett for her bravery, while questioning the speed of the response from armed police.
According to reports from the scene, it took 20 minutes for armed officers to arrive following the attack.